Size Chart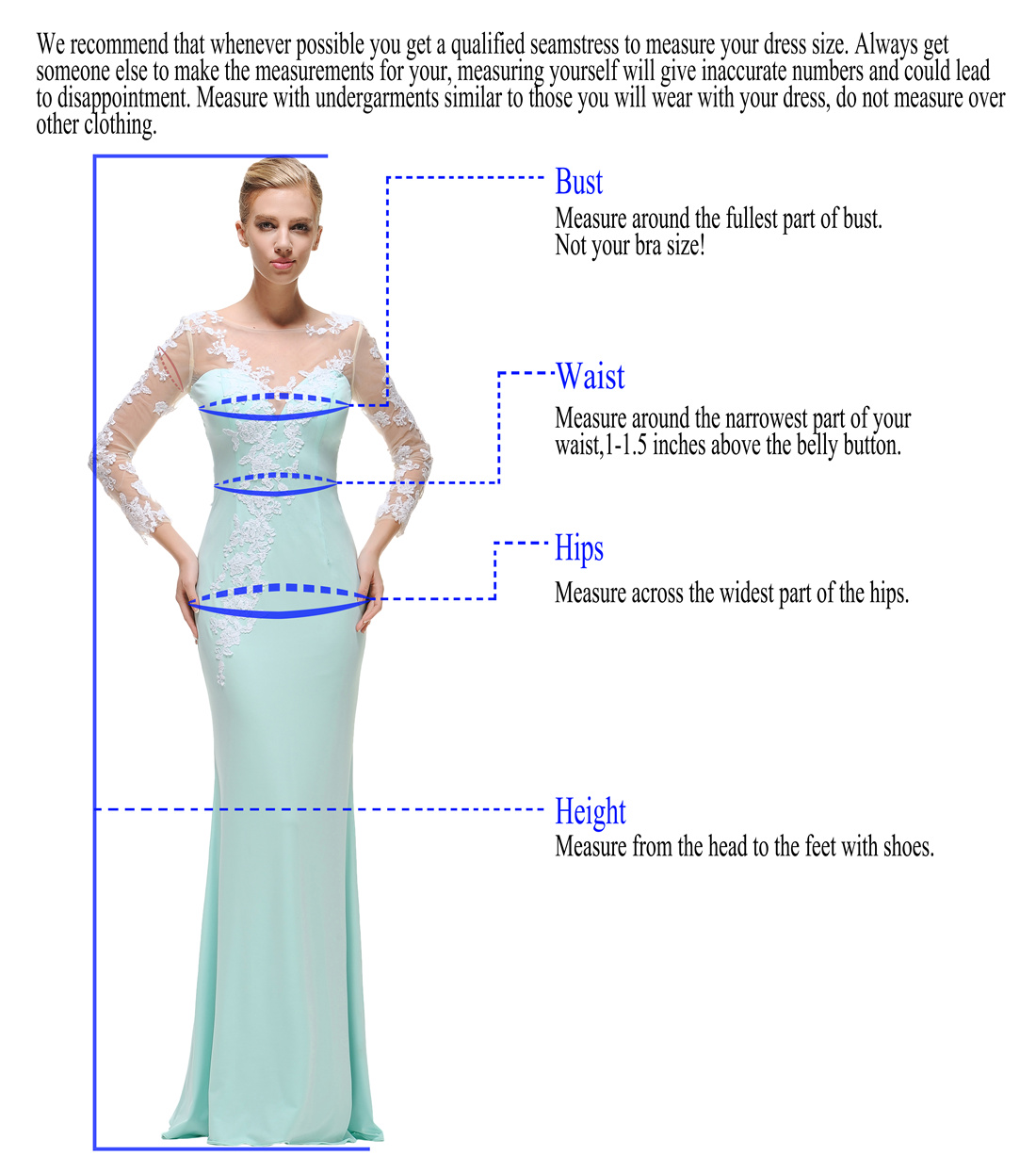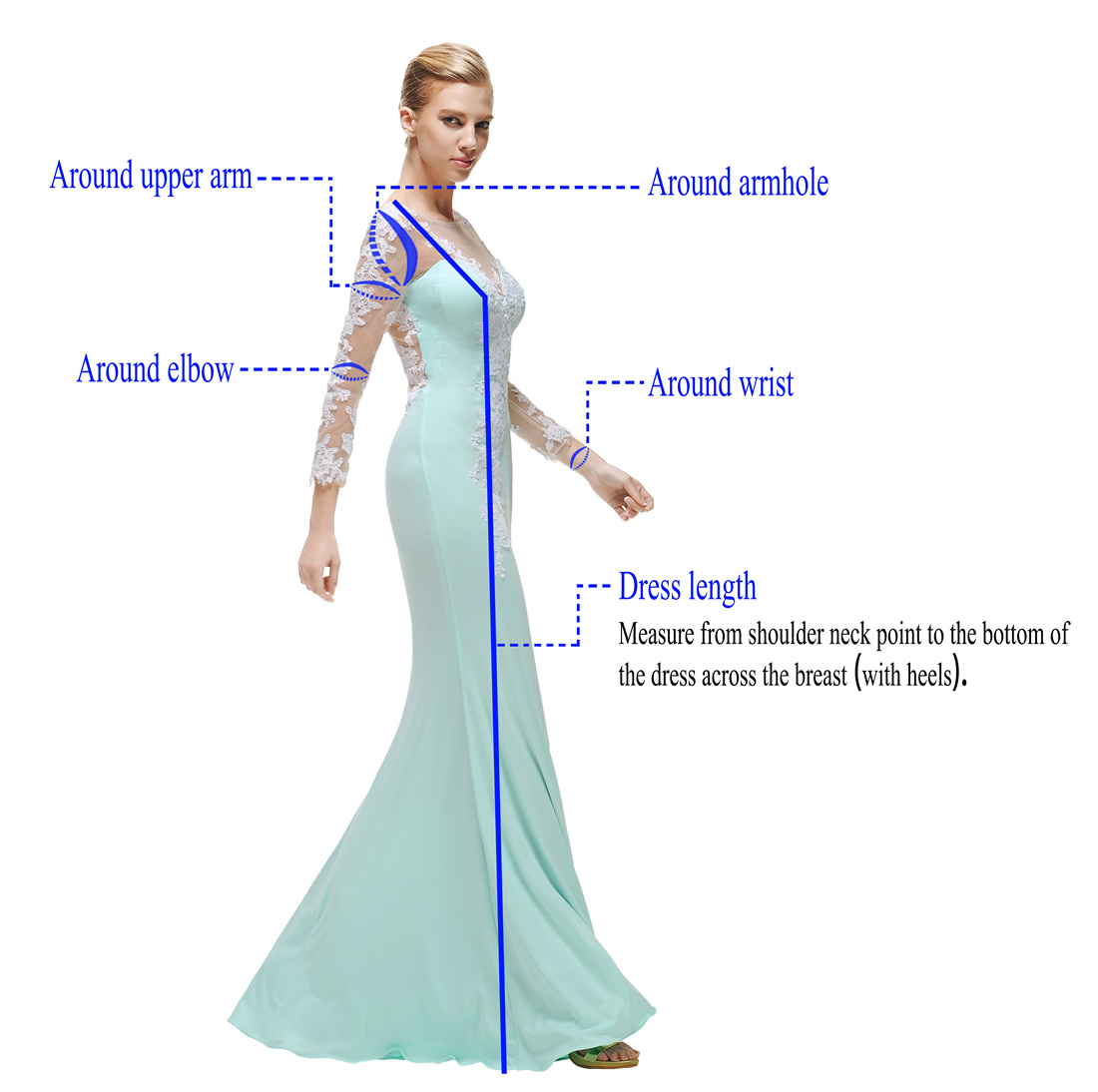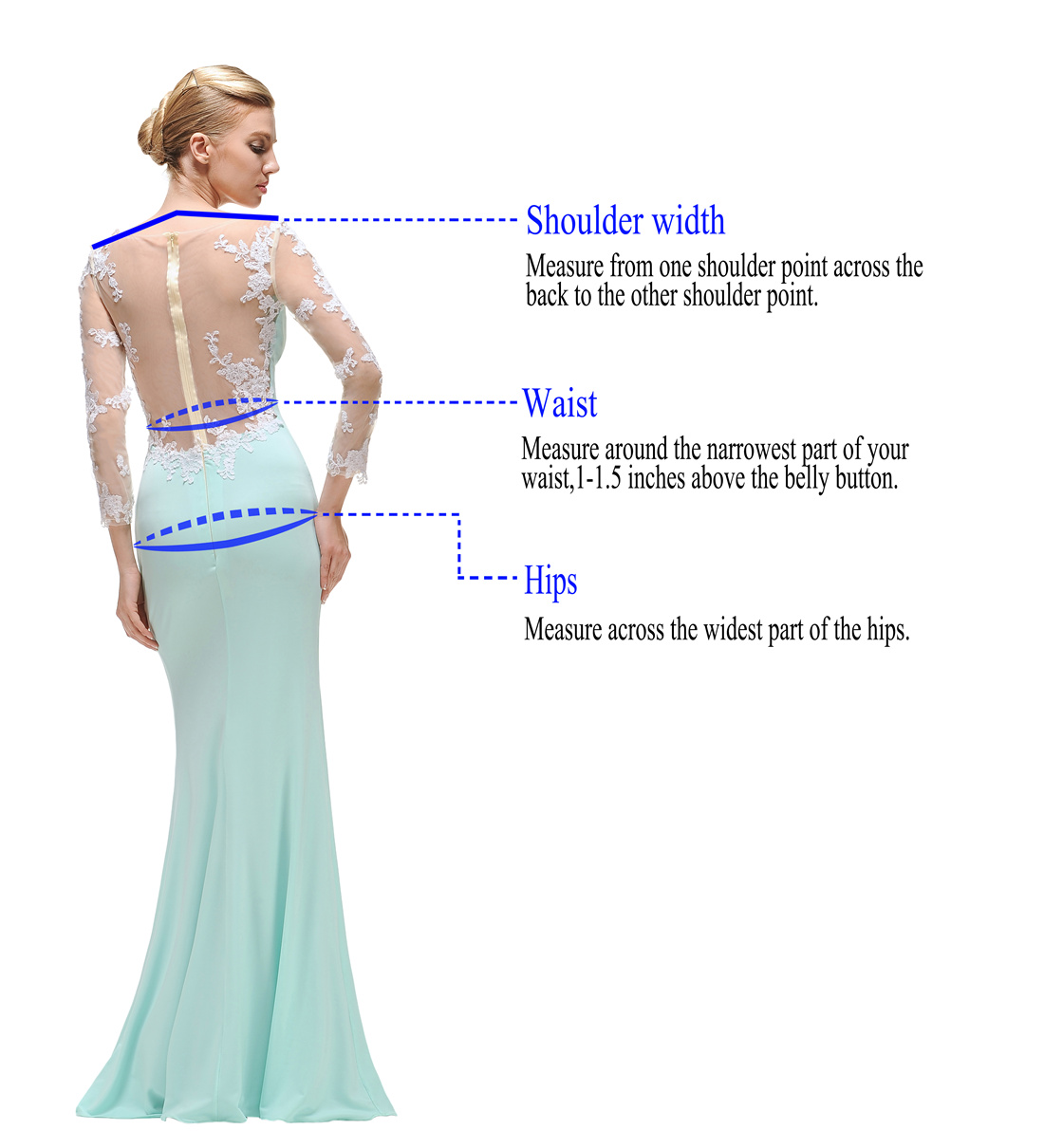 Measuring
Wedding dress and special occasion dress sizes often fit tighter than regular clothing sizes. In order to avoid the size mistakes, please do follow the measuring tips when ordering online. It takes times and efforts to measure your size accurately. Having a friend or your tailor take the measurements for you is absolutely worthwhile before ordering online. The top one reason gowns don't fit is their measurements taken incorrectly.
We recommend that whenever possible you get a qualified seamstress to measure your dress size. Always get someone else to make the measurements for your, measuring yourself will give inaccurate numbers and could lead to disappointment. Measure with undergarments similar to those you will wear with your dress, do not measure over other clothing.
While measuring, keep the measuring tape snug instead of tight around your body part. Never suck in your tummy for a smaller belly number!
So let's see how to take the measurements.
1. Around upper bust: Measure above the breasts and across the armpits.
2. Around bust: Measure around the fullest part of bust.
3. Around under bust: Measure underneath the breasts.
4. Nipple to nipple: Nipple to nipple.
5. Around waist: Measure around the narrowest part of your waist,1-1.5 inches above the belly button.
6. Around hip: Measure across the widest part of the hips.
7. Shoulder to nipple: From the shouder to nipple.
8. Shoulder to waist: Measure from shoulder neck point over bust to the waist line.
9. Dress length: Measure from shoulder neck point to the bottom of the dress across the breast(with heels).
10. Shoulder width: Measure from one shoulder point across the back to the other shoulder point.
11. Your actual height: Measure from the head to the feet with shoes.
For dress with sleeves or off the shoulder styles, the following measurements are needed:
12. Around armhole.
13. Around upper arm.
14. Around elbow.
15.Around wrist.
16. Around shoulder.
17. Sleeve length. Measure from the shoulder point to where you would like the sleeves to be.
For mermaid style:
18. Around thigh: Standing with your feet together, measure around thigh(2 legs together) .
Tips for Dress Ordering & Fitting
1. If you want full. A Line or ball gown dresses, pay more attention to bust and waist measurements.
2. Keep your dress one size larger since it's easier to get a dress smaller than larger. Seldom dresses could get a perfect fit without alterations.
3. Before you place an order online, remind yourself that it's totally different from shopping in local bridal shops. You should be ready for some wrinkling caused by packing and shipping of any dresses. Don't compare the gown you take out of a small box or package with photos of a carefully steamed dress. If you want a wrinkle- free and perfect looking dress, have it steamed after alteration completed.