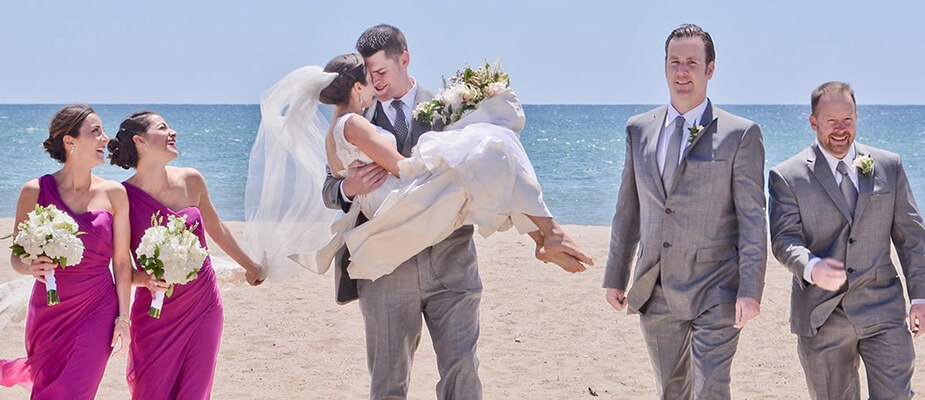 Looking for a trendy bridesmaid dresses for your big day? Here is the latest wedding trendy.
Bridesmaids' dresses will be less formal and more casual than they were before. For example, many bridesmaid dresses will include floral patterns because they're associated with nature and relaxing, and are more suitable for an outdoor wedding. Floral patterns will help bridesmaid dresses stand apart from the rest of the wedding party. Popular color choices include black, earthy shades, and pop of colors.
The bride wants you to look stunning on her big day. And what better way to do that than by wearing a gorgeous bridesmaid dress? But finding one that fits well while looking great isn't always easy.
Luckily, there are plenty of options of the 2023 wedding trendy.
Mock Neck Bridesmaid Dresses
Mock necks were seen everywhere in the bridal fashion week, so will the trend spread to bridesmaid fashion! Mock neckline looks great for just about any body type. They balance out the overall appearance of your figure. If you're feeling adventurous but don't want to look too daring, a mock neck is a good choice.
Mock neck is an easy way to give yourself some extra volume at the neck without having to put on a bolero or wrap.
Modest Neutral Satin Bridesmaid Dresses Long Sleeves Mock Neck
Made of satin fabric in neutral color, the dress features mock neckline with tied bow on the side. Bishop long sleeves draw an excellent modest design. You could wear any garment under this dress, perfect for a winter wedding.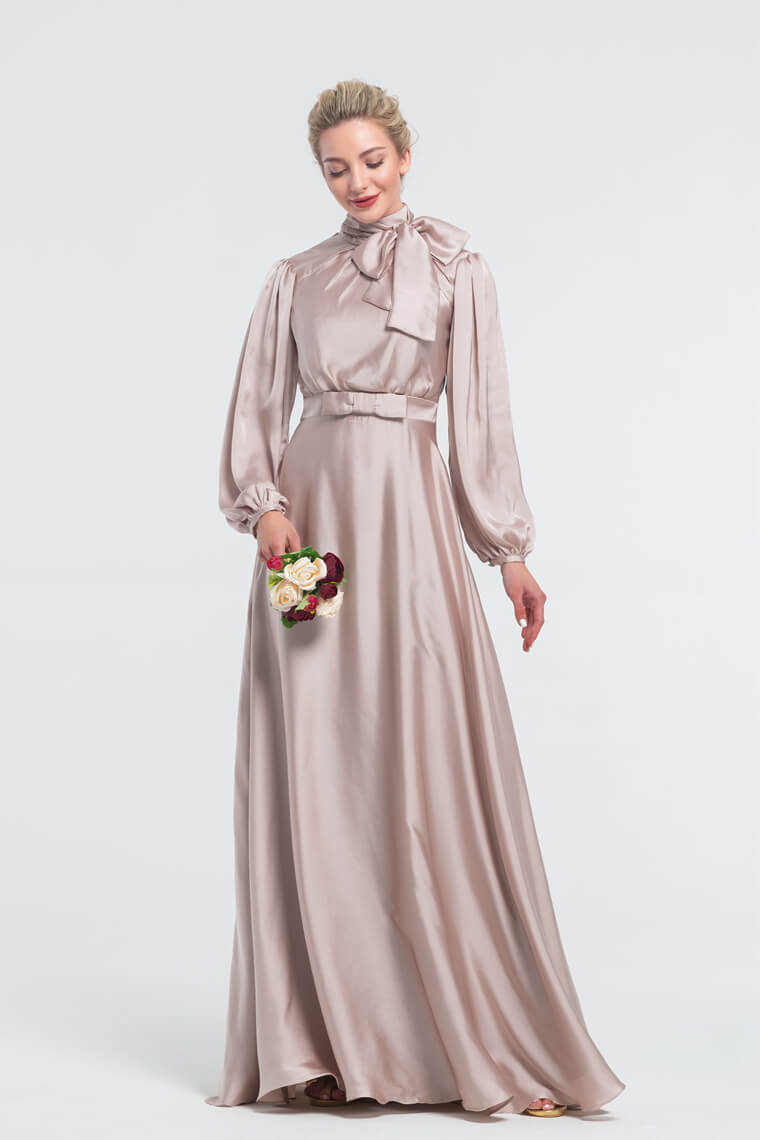 Modest Navy Bridesmaid Dresses Long Sleeves High Neck
The elegant dress is made of airy chiffon fabric in a noble navy color, mock neck with a long sash, that can be worn and tied in various ways, in the middle, back or on the side, or just let it fall down, any is full of design. Tiered Dress in a huge full skirt looks amazing. Enjoy your princess moment in this dress!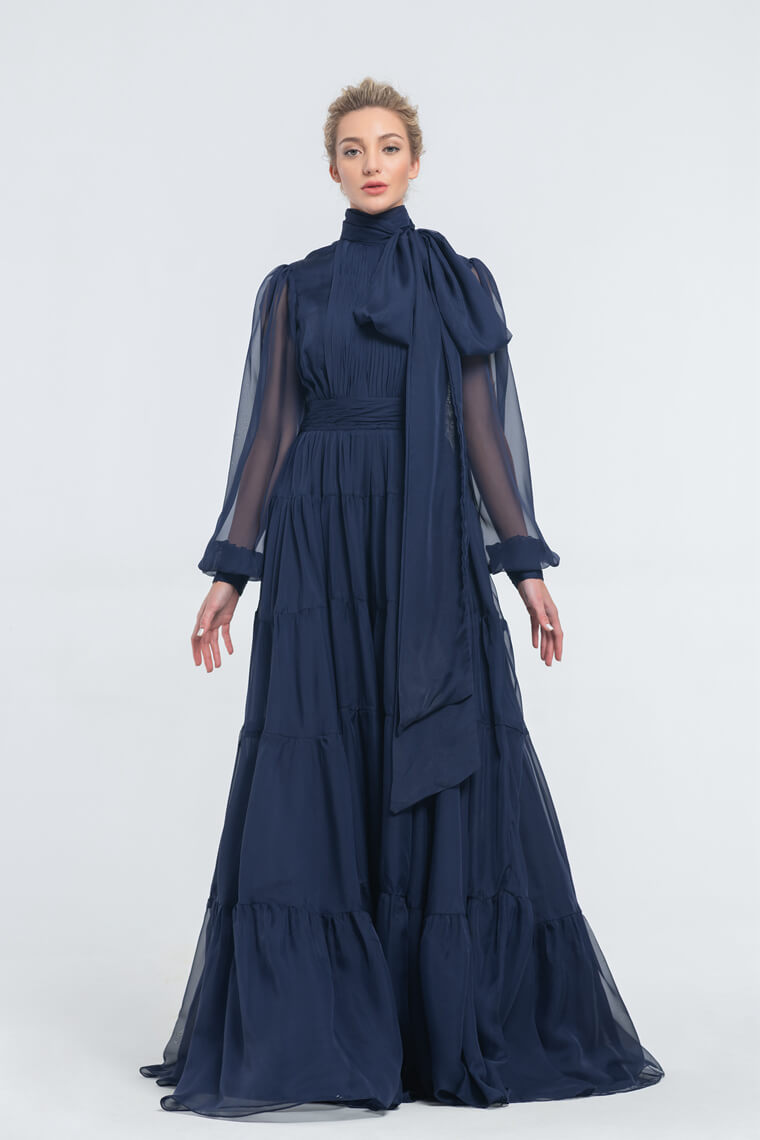 Midi Length Bridesmaid Dresses
The bridal party is the most important part of your wedding. It's a chance for you to show off all of your best features and celebrate with your closest friends and family. The bridesmaid dresses are an integral part of this celebration, so it's important that they look their absolute best. Midi length bridesmaid dresses are perfect for showing off their figures. And the midi length meet summer wedding trends very well too.
Terracotta Modest Midi Bridesmaid Dress
Cut in an A-line silhouette, the skirt is gathered at the waist to create a more fitted look. It also features a modest jewel neckline with crystal and beaded detail around, and the three quarter sleeves finish the modesty.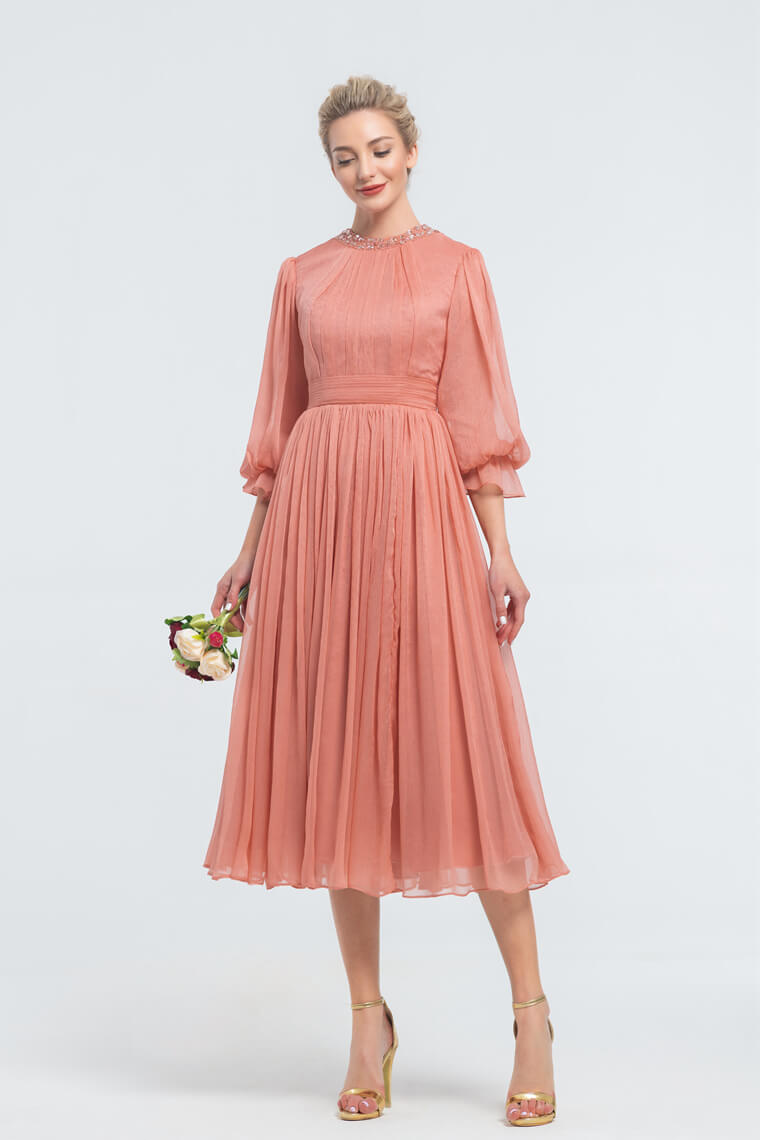 Dusty Blue Midi Bridesmaid Dress
The dusty blue midi bridesmaid dress is a classic style that has been around for decades. It's the perfect choice if you want to look elegant and classy, but still feel comfortable. The midi length makes it easy to move around in, while the free fit means it won't be too restrictive.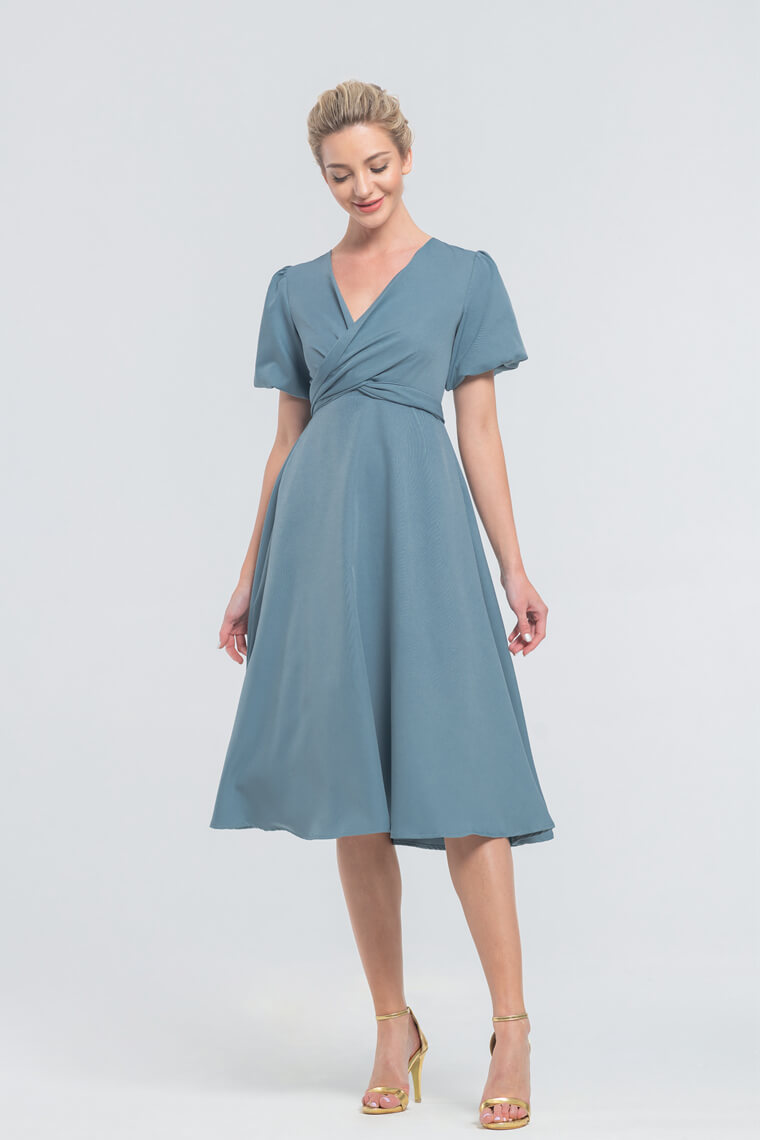 Satin Bridesmaid Dresses
The satin bridesmaid dresses are the most popular wedding dress style for a reason. They're classic, elegant and timeless. The satin bridesmaid gowns have been around since the early 1900s and the fashion come back for 2023. Satin is a very soft fabric that has a smooth feel to it. It looks amazing in many different colors and styles.
Dark Emerald Satin Bridesmaid Dresses Dolman Sleeves
Satin bridesmaid dresses are a classic style that is timeless and elegant. This bridesmaid gown comes in dark emerald color, with narrow V neck and long sleeves, skirt is gathered in the center and thus flattering for pear-shaped girls.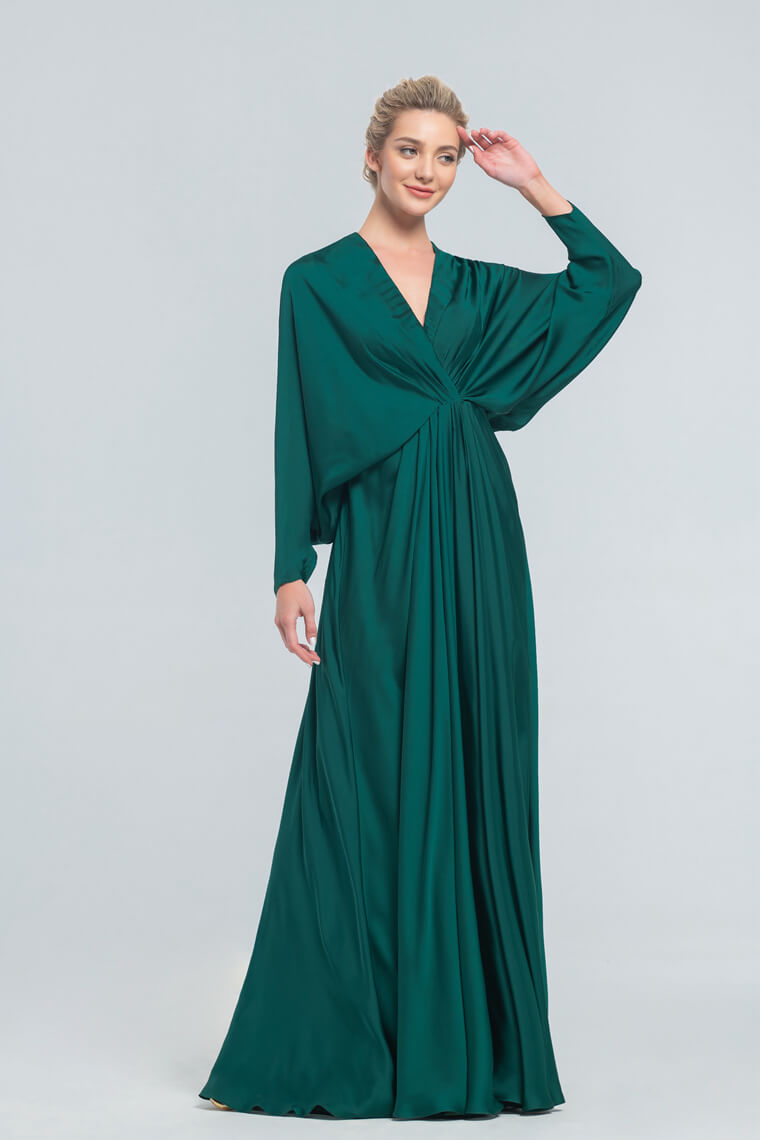 Slate Blue Satin Pleated bridesmaid Dress
The Slate Blue pleated bridesmaid dresses are a great choice for your wedding. They are perfect for the summer season and can be worn to any occasion. The pleats on these dresses make them very comfortable and flattering. These dresses will look amazing with your hair up in a bun or down in curls.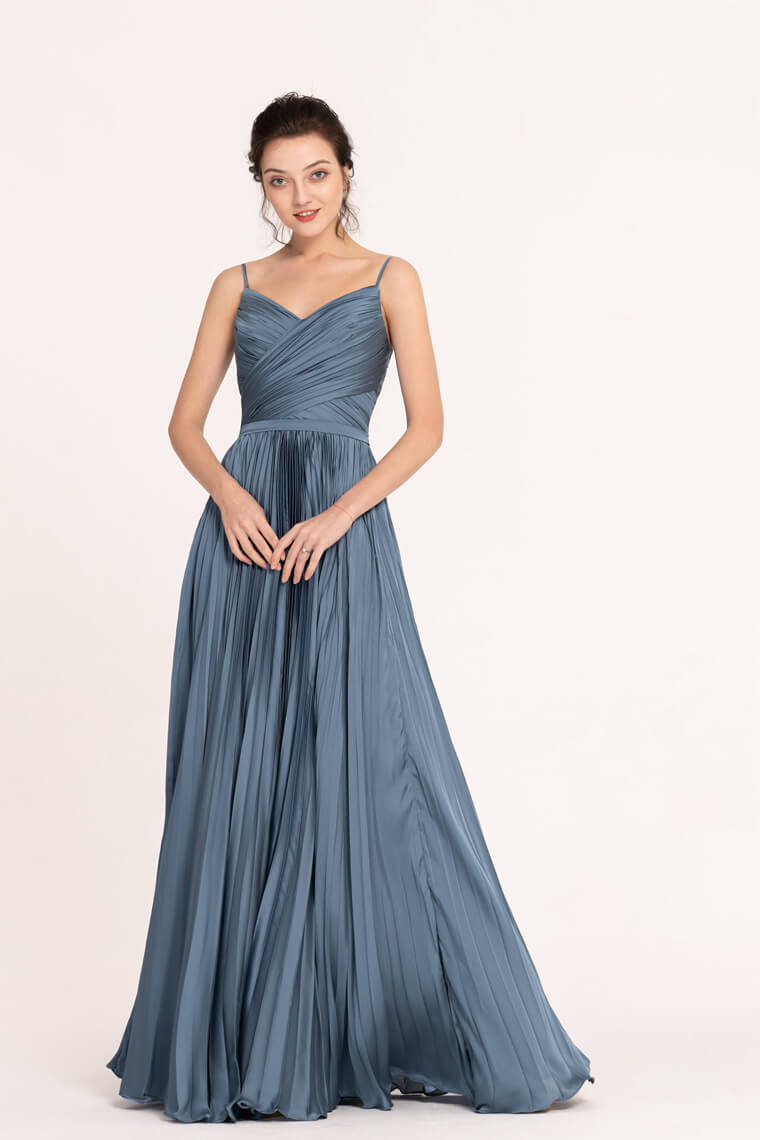 Bridesmaid Dresses with Slit
The best way to make your squad look even more beautiful is by wearing bridesmaid dresses that have a slit. Your bridesmaids can wear their favorite dresses and add the perfect amount of style by adding a slit in it. The best part about this type of dress is that you do not have to worry about any kind of problem while wearing it. You will be able to enjoy every moment.
Now, while the slit has been around for quite some time, the designers are taking the trend to another level. The thigh-high slit is no longer just about being sexy. Now, it's about bringing a little drama to your wedding day.
Burgundy Bridesmaid Dresses with Slit
A burgundy velvet gown is a good choice for your bridal party. It's elegant and timeless, but still modern enough to be trendy. With a thigh-high slit and sheath skirt, it's comfy for moving, and you'll never worry about stepping on your dress.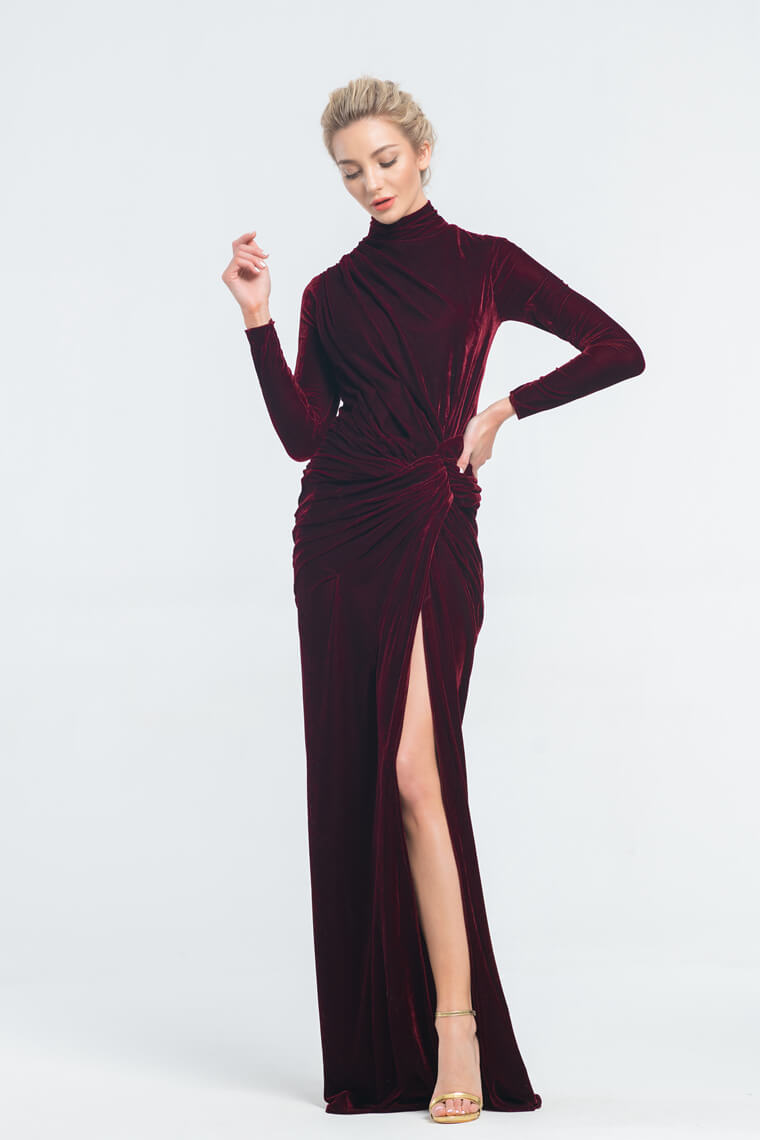 Light Blue Modest Beaded Bridesmaid Dress
It's really a must-have for your wedding. They will make you look elegant and stylish at the same time. The beaded design is very attractive, and it can also show off your beautiful figure.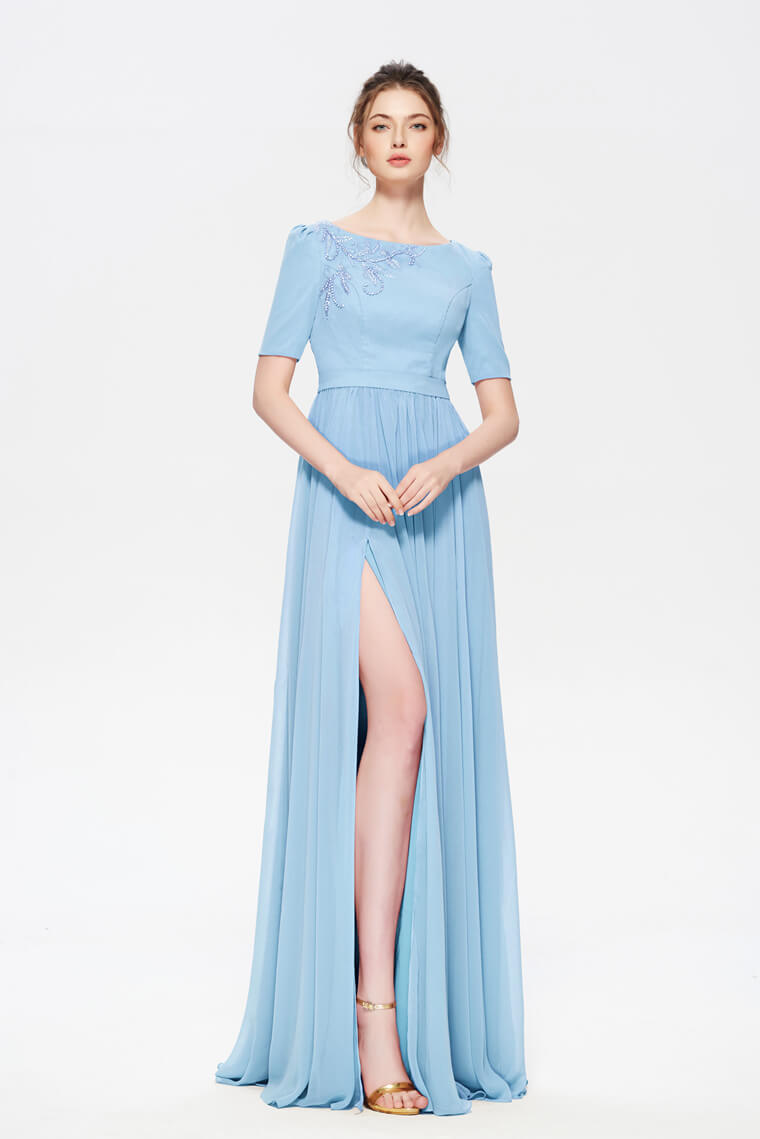 Floral Bridesmaid Dresses
Floral prints are popping up everywhere at weddings these days. Yet the 2023 execution of flower motif dresses is absolutely stunning. Pastels and bright colors dominated the runways at Fashion Weeks. Go floral is one of the best solutions for a countryside wedding in nature. Floral dresses will give you the enchanting look like a wooden fairy.
Floral Off the Shoulder Bridesmaid Dress
Flowery bridesmaid dresses are a great way to add some color and interest to your wedding, and especially perfect for weddings that have an outdoor ceremony or reception. This dress can be worn in 3 ways, off the shoulder as seen, or cold shoulders with decoration draping details, or put the straps on the shoulder forming cap sleeves.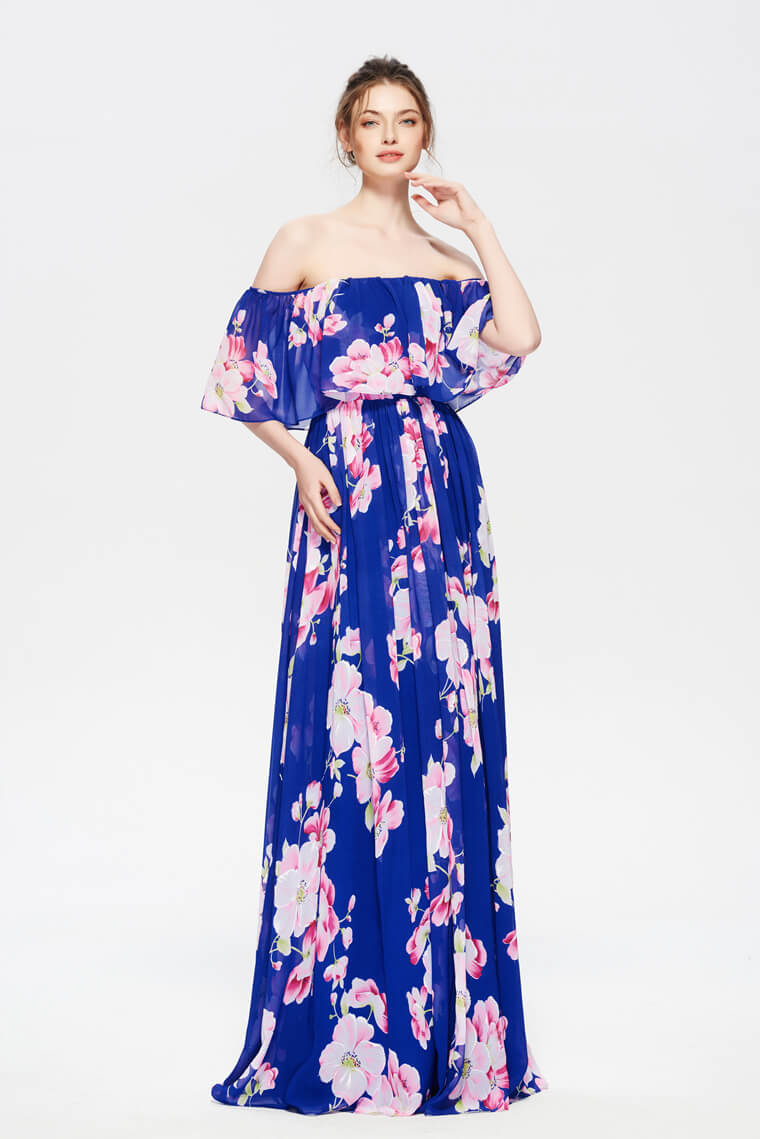 Floral Bridesmaid Dresses Short
Spun of satin fabric, royal blue top combined with floral skirt, the little cut-out waist adds more interest and joyfulness, your crew will look gorgeous wearing this dress.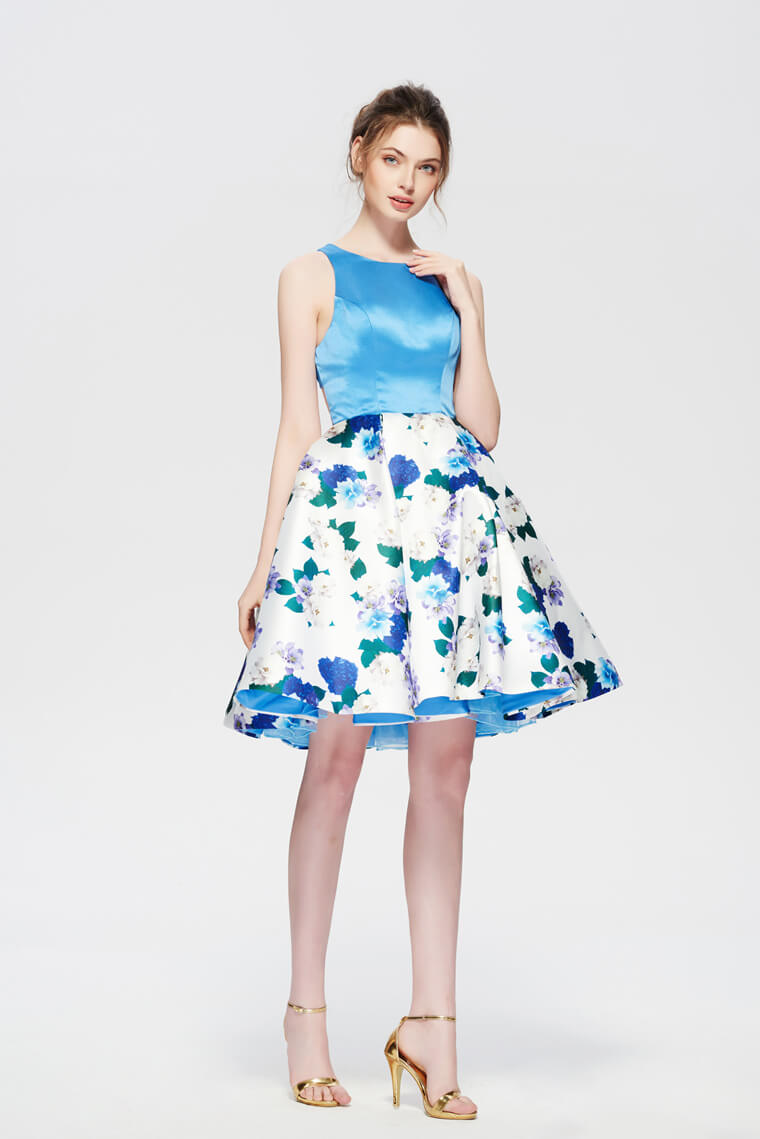 Bridesmaids Separates
We see a strong urban influence in bridal fashion from the 2022 to 2023 seasons. The practical side of two-piece versatility as the pieces can be used as going-out wear later in your life. Take advantage of trendy bridesmaid separates to have more than one outfit for the special day. Switch maxi satin or tulle skirt to a statement feathery mini to dance the night away.
The wedding season has just begun and we are already seeing some trends emerging. For example, we are seeing a lot of brides opting for a more casual look. From the registry only, we saw a shift towards bridesmaid separates with a focus on practicality. This trend would be more convenient if you are planning a destination wedding. These separates can be worn again and again after the big day.
Dusty Blue Two Piece Bridesmaid Dress
White lace top matched with dusty blue dress, the lace top features sophisticated scalloped trim, soft tulle feels airy and flowy. This dress come in 80 colors.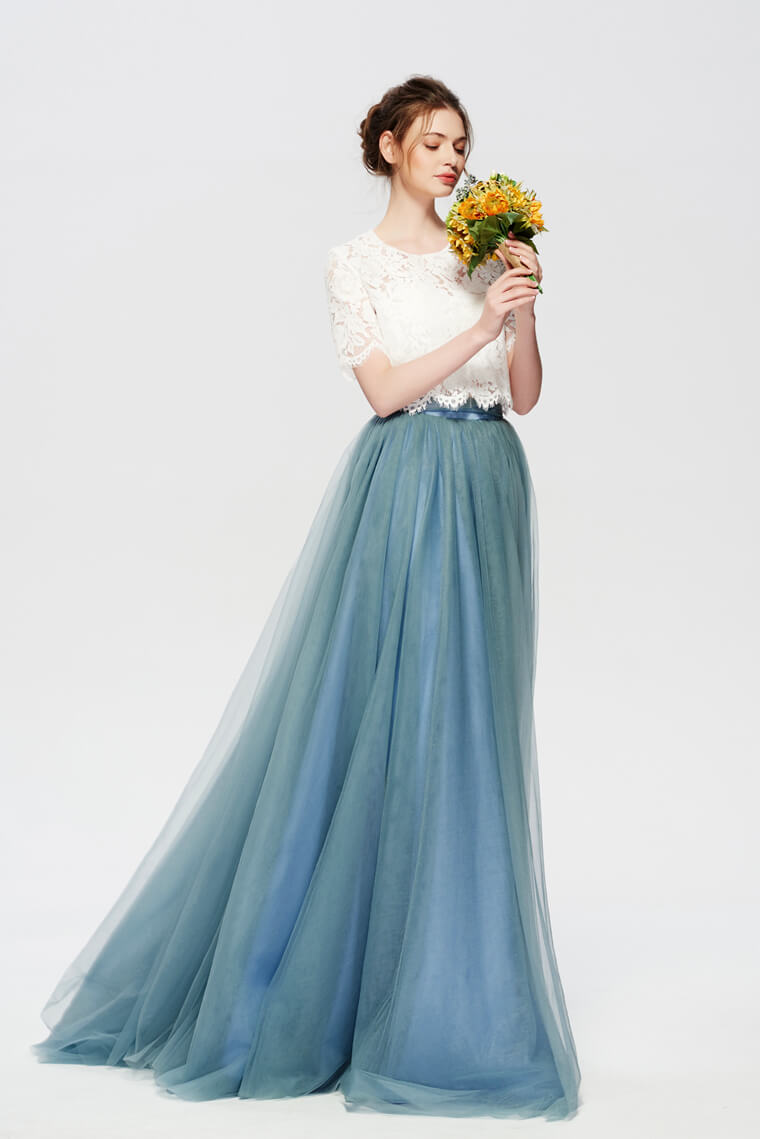 Maroon Two Piece Modest Bridesmaid Dress
The Two-Piece bridesmaid dress is a gorgeous piece for current wedding trends. This dress features blush lace top with short sleeves, and a maroon color skirt falls elegantly and flows beautiful with moving.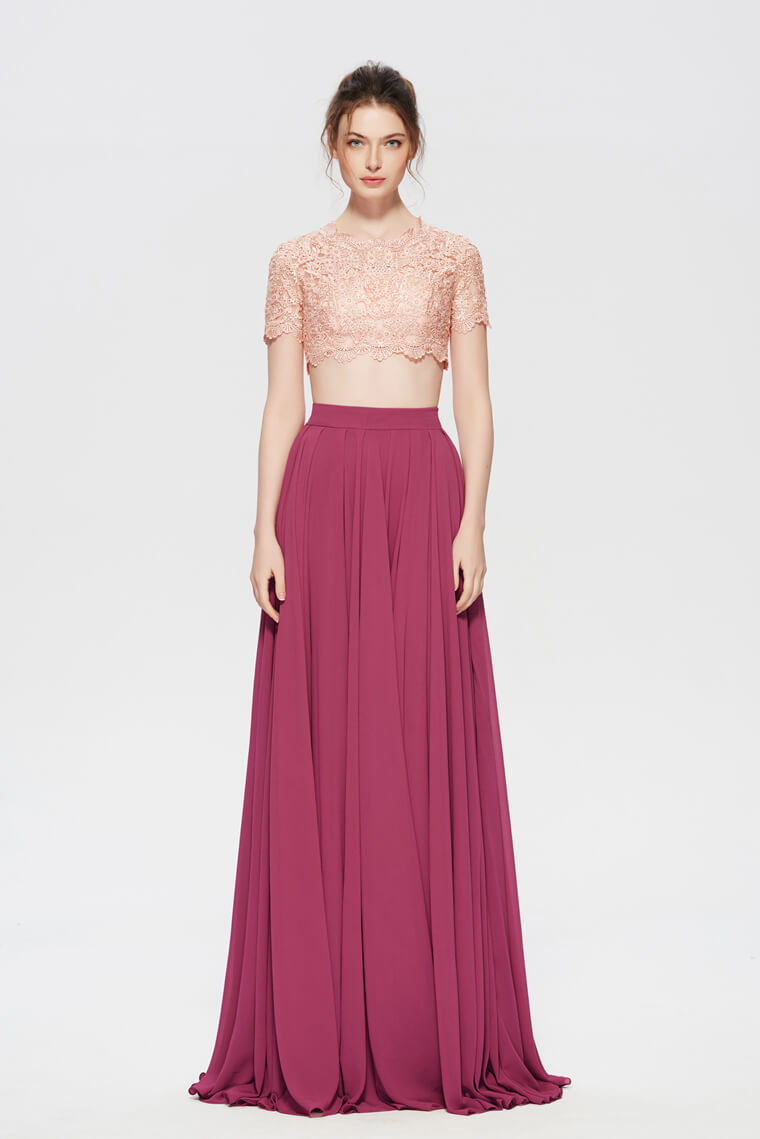 One Shoulder Bridesmaid Dresses
Even though everyone is wearing the one-shoulder style now, the one-shoulder trend won't go away any time soon. However, what makes this style different from any other is how you wear it. One side looks good on some people while another side looks better on someone else. We've selected 2 styles that we think would be perfect for your squad.
One Shoulder Coral High Low Bridesmaid Dress
The one shoulder dress has been popular since it was first introduced in the 1920s, and it comes back in fashion today. Lace one shoulder top, high low hemline is so comfortable to move and dance.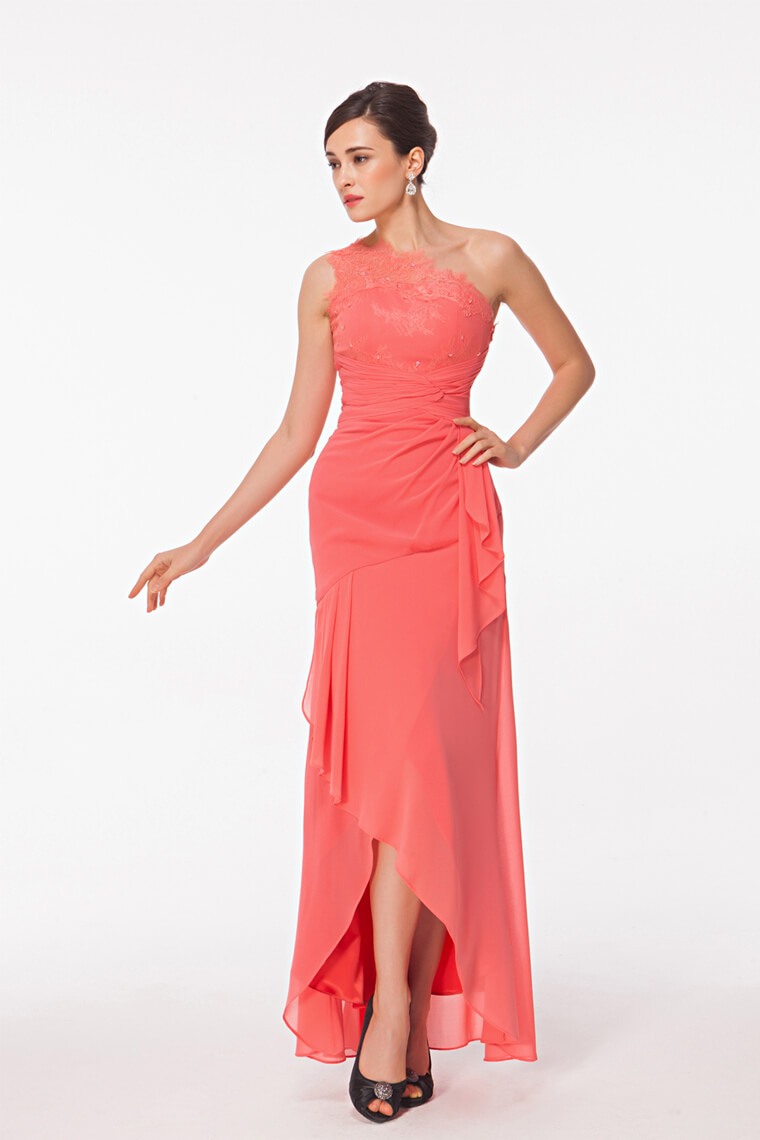 One Shoulder Plum Satin Bridesmaid Dress
This dress features one shoulder strap, which creates an elegant look. Hand made ruffles adds more charm.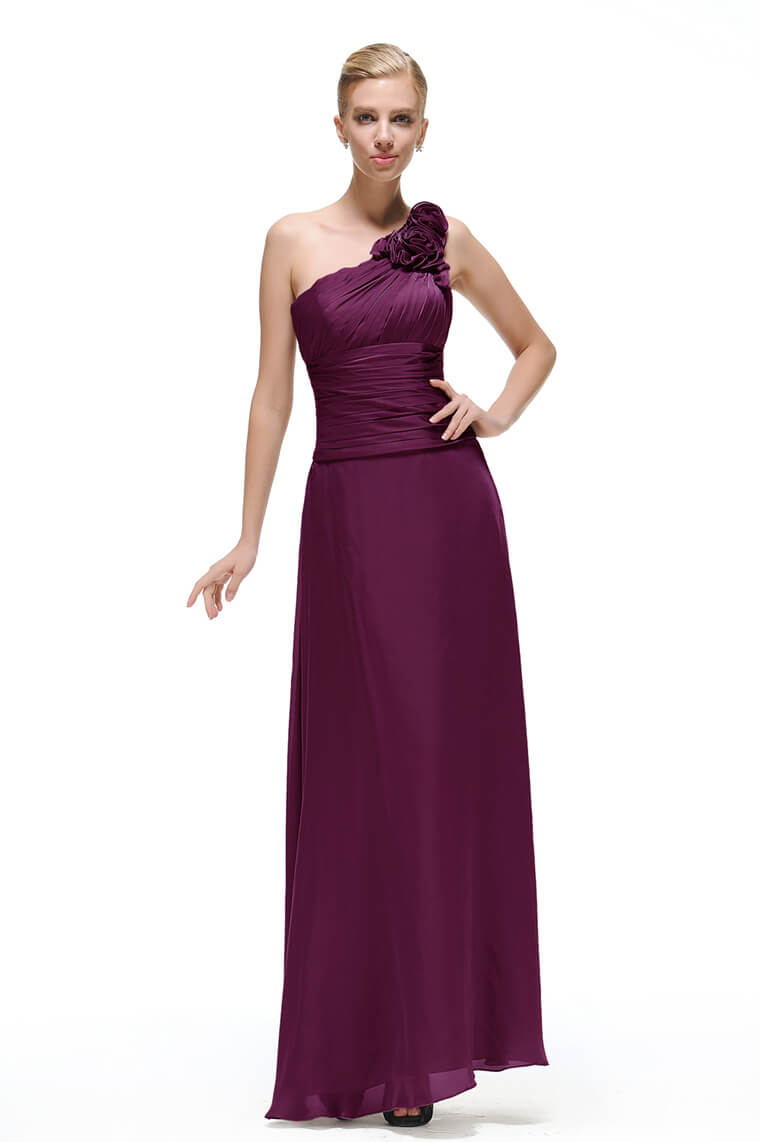 Cowl Neck Bridesmaid Dresses
The cowl neck is a style of dress shirt collar that has become popular throughout 2022 and will be hot in 2023. It is often used to create a more casual feel for formal weddings. In short, the cowl neck is a type of collar with a rounded or curved shape at the top. There are many different styles of cowl necks. Some have a very simple design while others are much more elaborate. Here we'll introduce 3 different styles of cowl neck dresses.
Minimalist Satin Bridesmaid Dress Cowl Neck
This bridesmaid gown comes in dusty blue color, with cowl neck and cap sleeves, 2 side pockets on both sides, minimalist style is eco-friendly.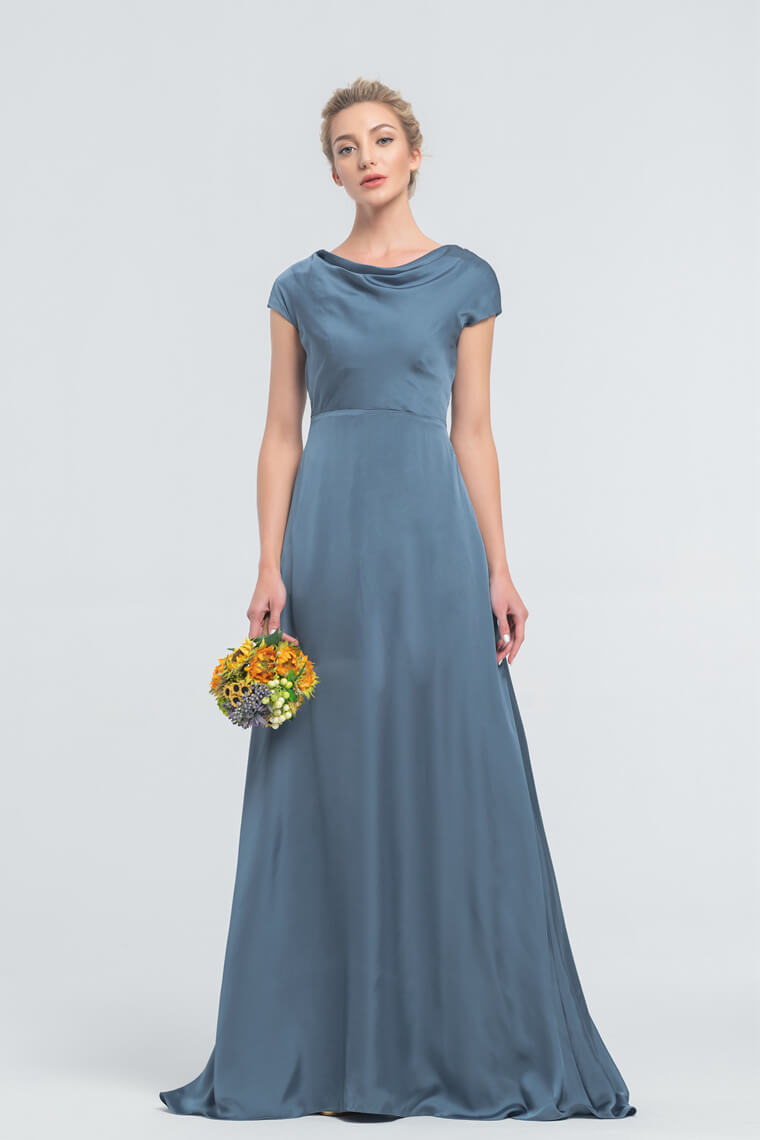 Cowl Neck Dusty Olive Bridesmaid Dress
Spun of crepe fabric, the cowl neck dress features modest look with its cap sleeves and all covered top, elegant A Line shape. The dress has been carefully designed by our team of fashion designers to make you look your best. It will surely become one of your favorite dresses in no time!