You'd think this question would be easy to answer, but it really isn't! If you ask one person, they'll say navy; if you ask another, they'll say pink or burgundy. With so many opinions on this subject, it can feel like an impossible task to choose the right color for your mother of the bride/groom dress; luckily, with this guide to the endless debate, we'll help you decide once and for all!
Before shopping a dress, Here are some questions for you to make clear after you found your pregnancy.
The Wedding Formality and Wedding Theme
It's best to select a dress in a color that you feel comfortable with, but how formal you need to be depends upon the venue. Check with the new couple how formal their wedding will be, what they're going for in terms of a wedding theme, also if there's anything else you need to know, and if they have any color preference for the mother of the bride's/groom's dress. For an outdoor wedding (and summertime wedding, in general), it's not necessary to wear a satin mother-of-the bride gown or chiffon overcoat. The same goes for short dresses and cocktail party attire.
Should Mother of the Bride and Bridesmaids Match?
Not necessary, the mother of the bride dress color doesn't have to match the bridesmaid dresses'. Choosing a color scheme based off the wedding color is a safe and traditional choice. But, what happens if you don't want to match the bridal party? First, check with the bride and groom –they probably have a few opinions on what they do or don't want to see walking down aisle. Remember, it's not just about you! Think about how your dress will compliment their tuxes (or dresses!) and make them feel good on their big day.
Take Seasons in Consideration
For spring weddings, you can wear any shade of pastel including light pink, dusty blue, pale green or even some floral print. Summer weddings call for vivid and brighter colors, sunflower, fuchsia, or some neutral colors like champagne, beige and taupe colors. You can add some flare with bold accessories—like floral headbands. If your wedding takes place in autumn, try some rich colors such as cobalt blue, emerald, ruby, or earthy tones which match the season very well. Winter weddings offer the backdrop of dark colors, navy, burgundy, forest green are definitely good ideas, you can also consider some glitter color like gold, silver, or sequined dresses. For formal wear that shows a little skin but not too much skin—sexy dresses with intricate cuts are best to wear in winter season.
Color Ideas for Mother of the Bride/Groom Dress
Dressing modestly and appropriately has always been a point of emphasis when shopping for mother-of-the bride or groom attire. Today, a midi dress in navy blue, black or brown can do just as much justice to your presence as any lace dress. Nowadays, it is all about what you feel comfortable wearing on the big day.
Understated Earthy Tones and Neutral Colors
Bright colors are perfect for summer events, but when it comes to fall and winter weddings, think about understated neutral colors and earth tones that can easily transition from one season to another. You don't want your mother-of-the bride dress looking outdated a few years from now. As a general rule of thumb, opt for a medium-to-dark hue that won't clash with everyone else's apparel.
Earth Color Mother of the Bride Dress with Short Sleeves
The earth tone mother of the bride dress features lace top with modest round neck and short sleeves, gathered chiffon skirt falls elegantly to the ground. It's perfect for any season and will keep you looking stylish all year round. For a more formal look pair it with some classic pumps or strappy heels. For a more relaxed look wear it with some flats or sandals.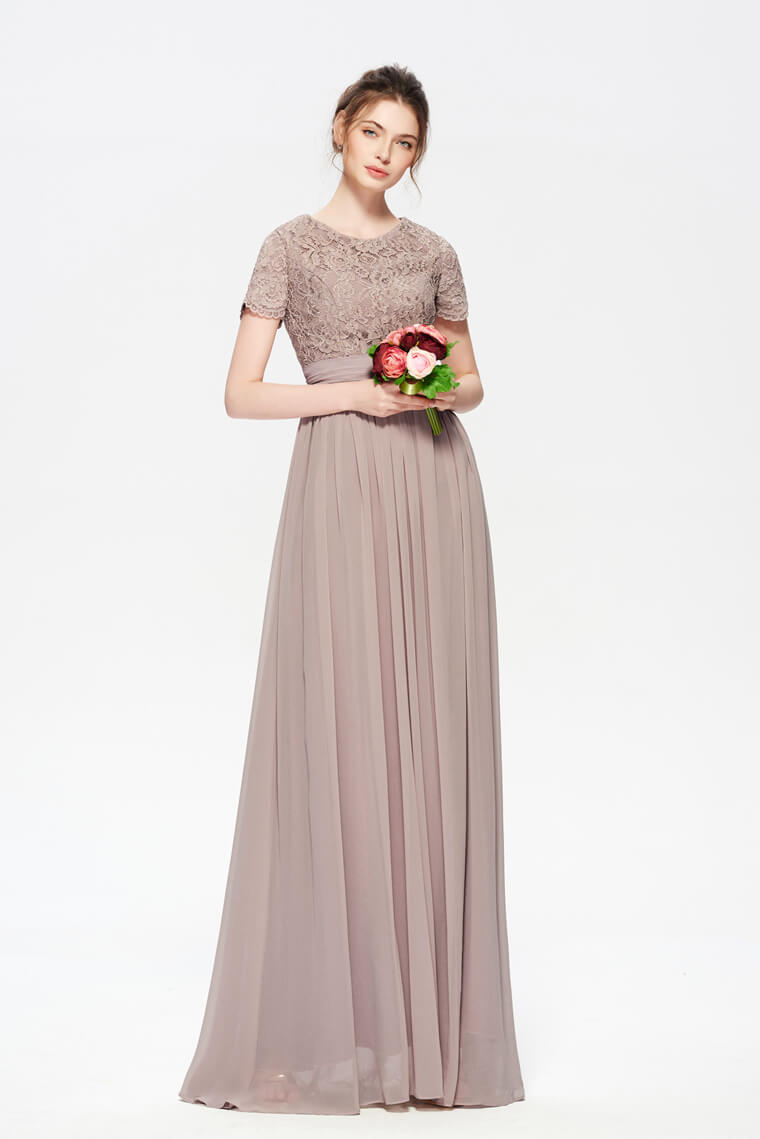 Cinnamon Rose Mother of the Bride Dress with Capelet
The all-in-one style is an excellent choice for a mother of brides who is attending her daughter's wedding. Beadwork on the side waist highlights the dress and is continued with a draped A line skirt with full length. With many color options of 120, it can be hard to decide on a winner. The caplet gives you an extra touch that no other category can match.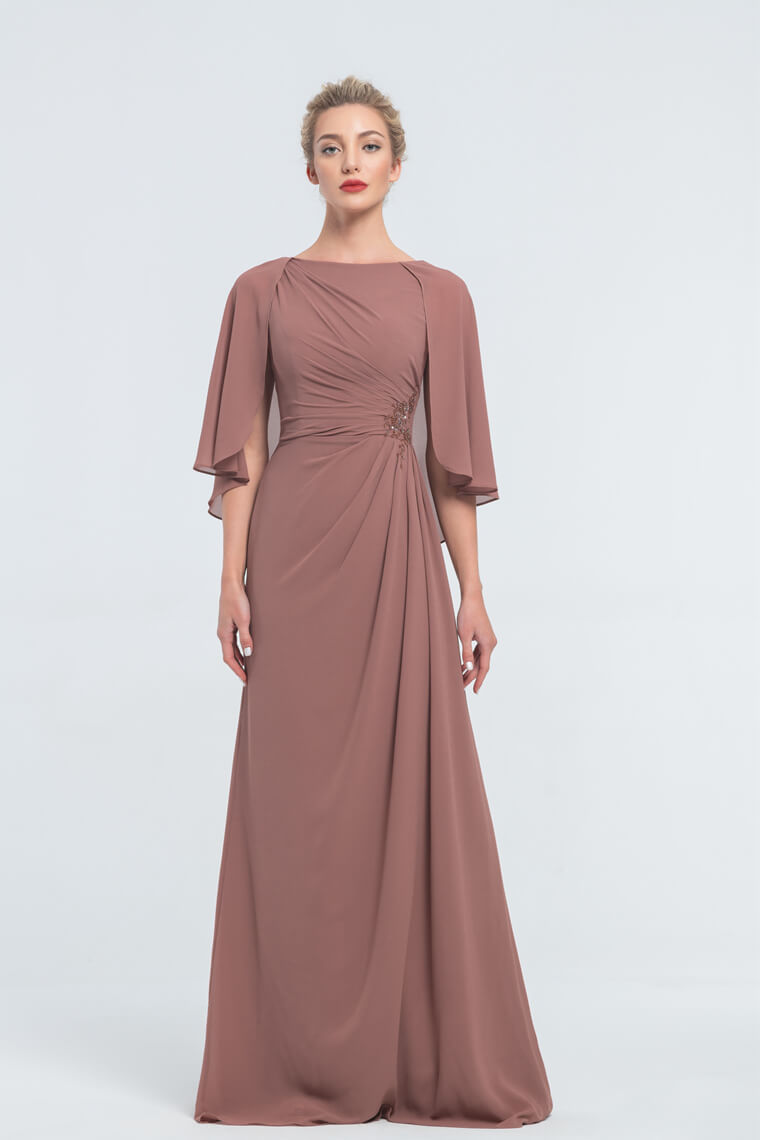 Rich Colors Fuchsia, Emerald, Cobalt Blue, Ruby
Rich colors, like fuchsia and emerald, add a touch of elegance and are appropriate with cooler weather in autumn and early winter. Cobalt blue also adds an elegant feel to mother-of-the-bride dresses, while ruby red can be worn year round as it's not too bright or dark. Bright Colors can give off a youthful vibe that's perfect for younger mothers of brides or grooms who want to look young and fun on their special day.
Modest Rosewood Mother of the Bride Dresses Long Sleeves
The elegant dress is made of crepe chiffon fabric in rosewood tone, self-tied bow in the top front, long sleeves and jewel neckline complete the modesty. The dresses will make you look more fabulous on your daughter's / son's big day!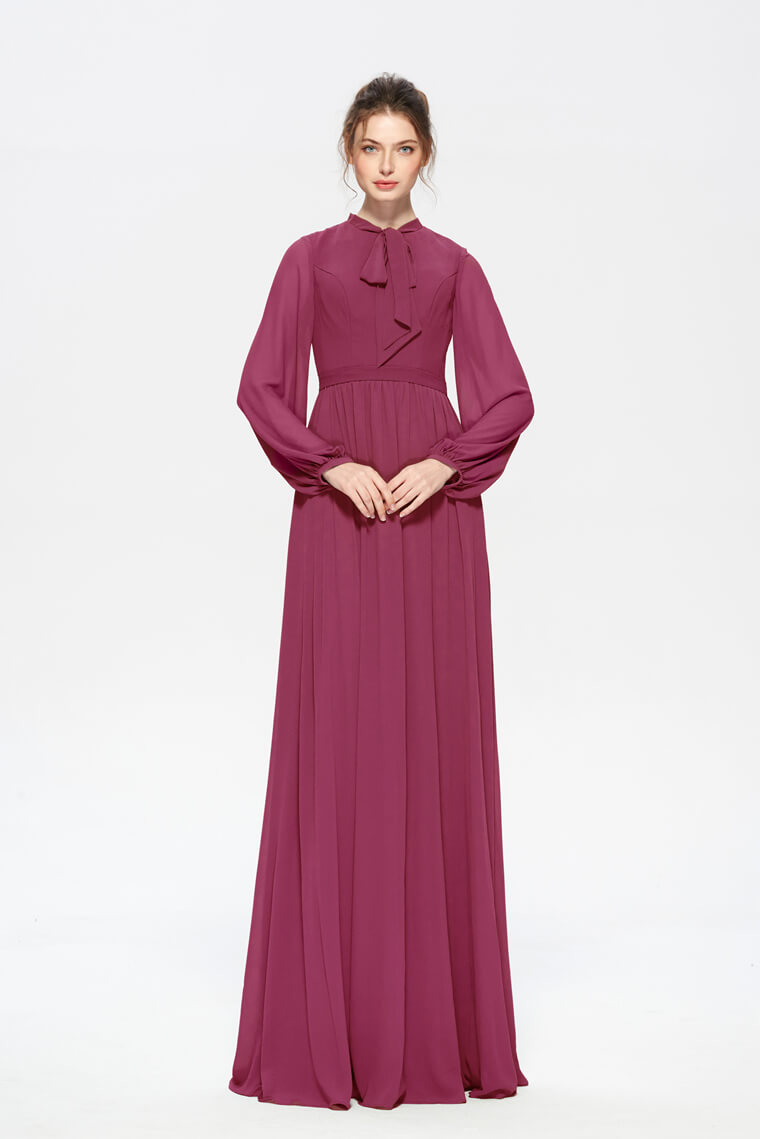 Dark Emerald Satin Mother of the Bride Dress Long Dolman Sleeves
Dark emerald satin mother of bride dresses feature a V-neck, a long dolman sleeves, a relaxed top, and a floor-length skirt. Wearing this dress during winter because it can keep you warm while it helps you look slim. The dark emerald color will make your skin looks brighter. You'll be able to walk down the aisle with confidence in an elegant style that will have everyone talking about your dress after you're gone!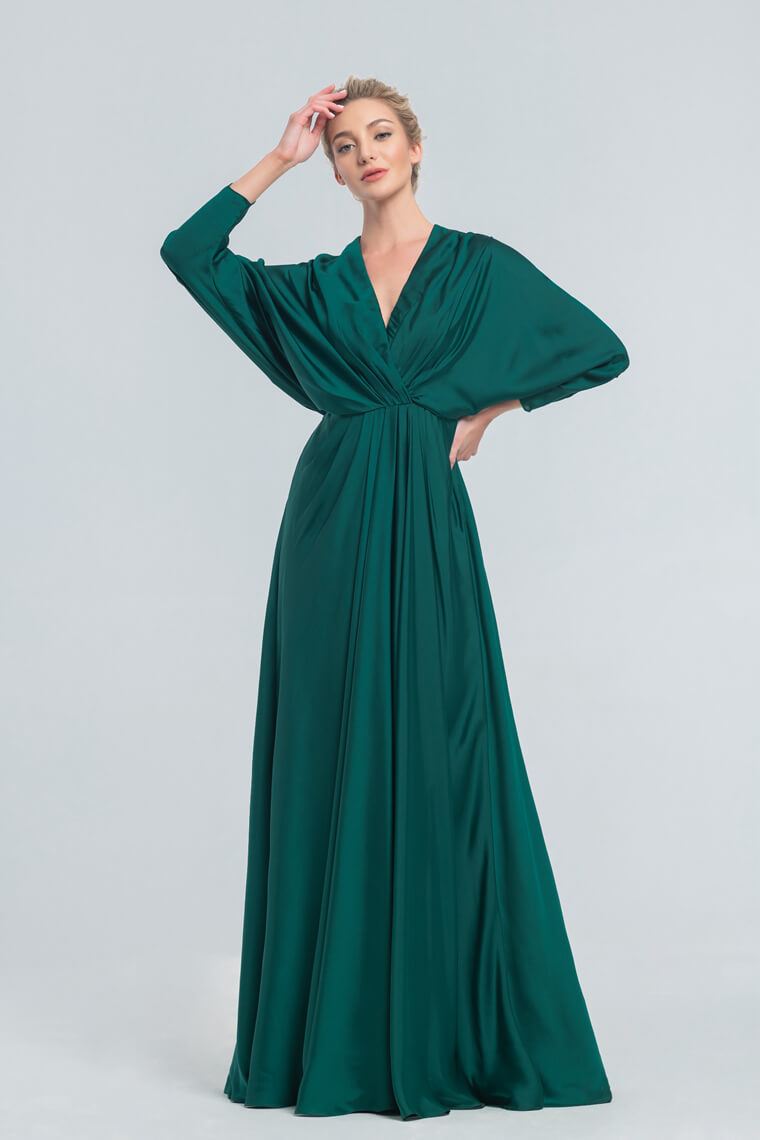 Dark Color Like Burgundy, Navy, Dark Emerald, Plum
In some situations, wearing a dark color can work out great. This color tone would work well in an outdoor wedding or setting. However, make sure to use a darker tone so you aren't mistaken as one of the guests! Another reason why a dark tone would be great for a mother-of-the-bride dress is because it will show up better against your loved one's attire.
Beaded Modest Plum Mother of the Groom Dresses 3/4 Sleeves
If you want to look at a classic color option that will still be timeless after many years have passed, consider going with plum. It's an understated color choice that will work well with many different skin tones and styles. This plum dress showcases elegant boat neckline with beadwork around, three quarter sleeves is nice for almost any dress code. A Line skirt falls to the ground.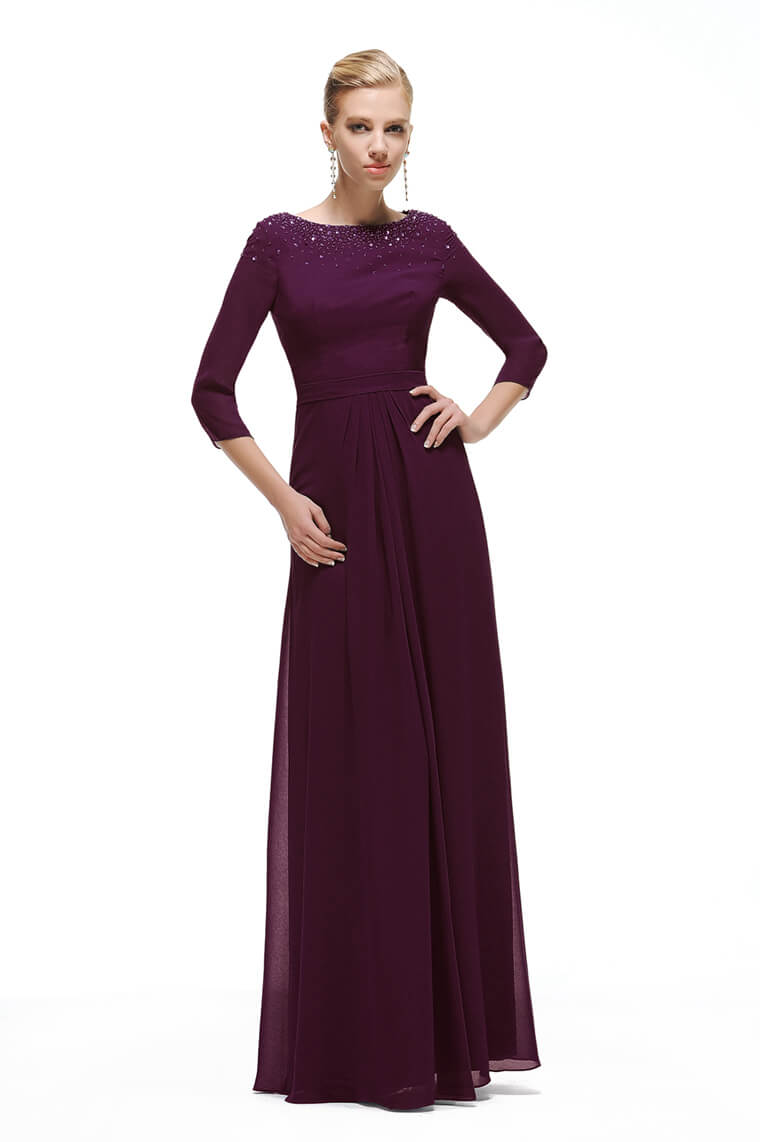 Navy Modest Chiffon Mother of the Bride Dress three quarter Sleeves Embroidered
This beautiful navy dress features a O-neck design, three quarter-length sleeves and an embroidered bodice. This dress looks stunning on its own or with accessories such as a shawl, or shrug to add that extra bit of style. Just pair it with some black heels and you're ready to go.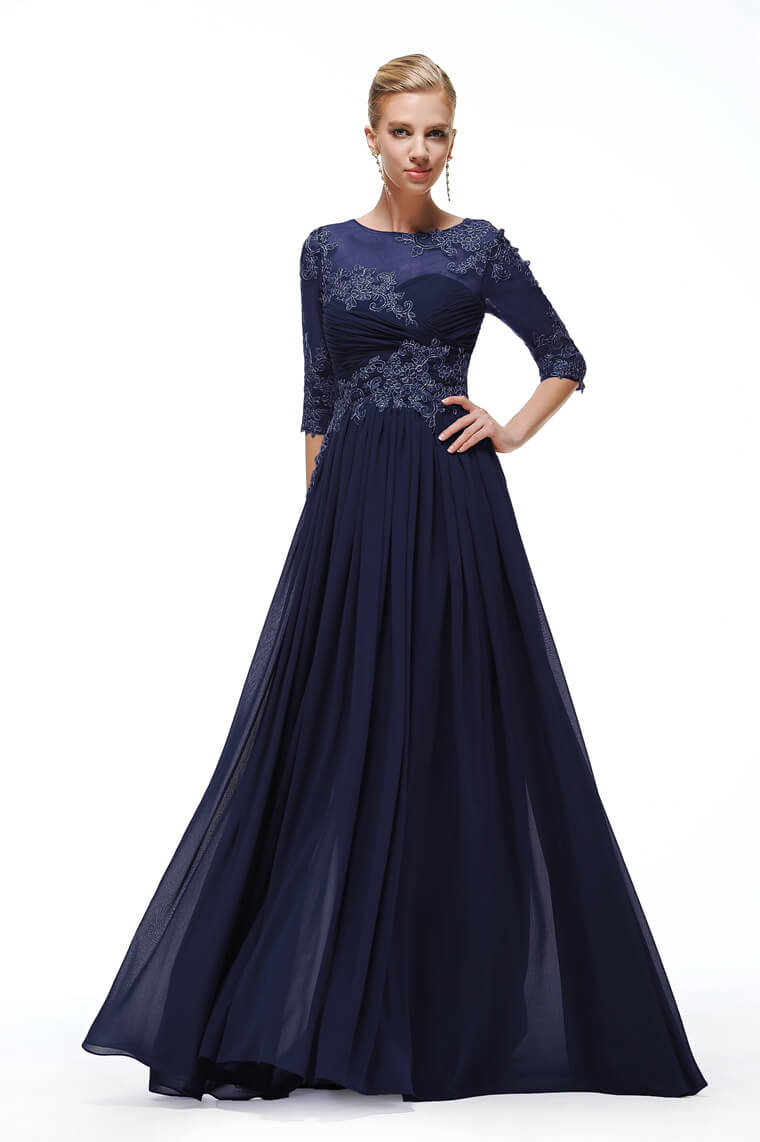 Be Fashionable, Try the Trending Colors
Want to look your best at your daughter's/son's wedding, but aren't sure what color to wear? The trendiest colors you can wear to mother-of-the-bride and mother-of-the groom dress codes are always changing, based on current styles. For example, coral was considered a classic choice just a few years ago. However, since fashion changes so quickly these days, choosing old-fashioned colors could make you feel out of style and left behind in today's wedding scene. Here, try some trending colors of year 2023. Rust, terracotta, eucalyptus, sea glass, dusty rose and so on, here are our pick-ups of the beautiful colors.
Chiffon Rust Color Mother of the Bride Dress three quarter sleeves
Rust and terracotta come in trend in 2021, has been hot in 2022, and will continue in 2023. The rust color mother of the bride dress is made of crepe chiffon fabric, beaded accent adds more sparkle and charm, box pleating A line skirt look special and outstanding. Meanwhile, three quarter sleeves make you look modest and elegant. So do not miss such an amazing dress and order one right now!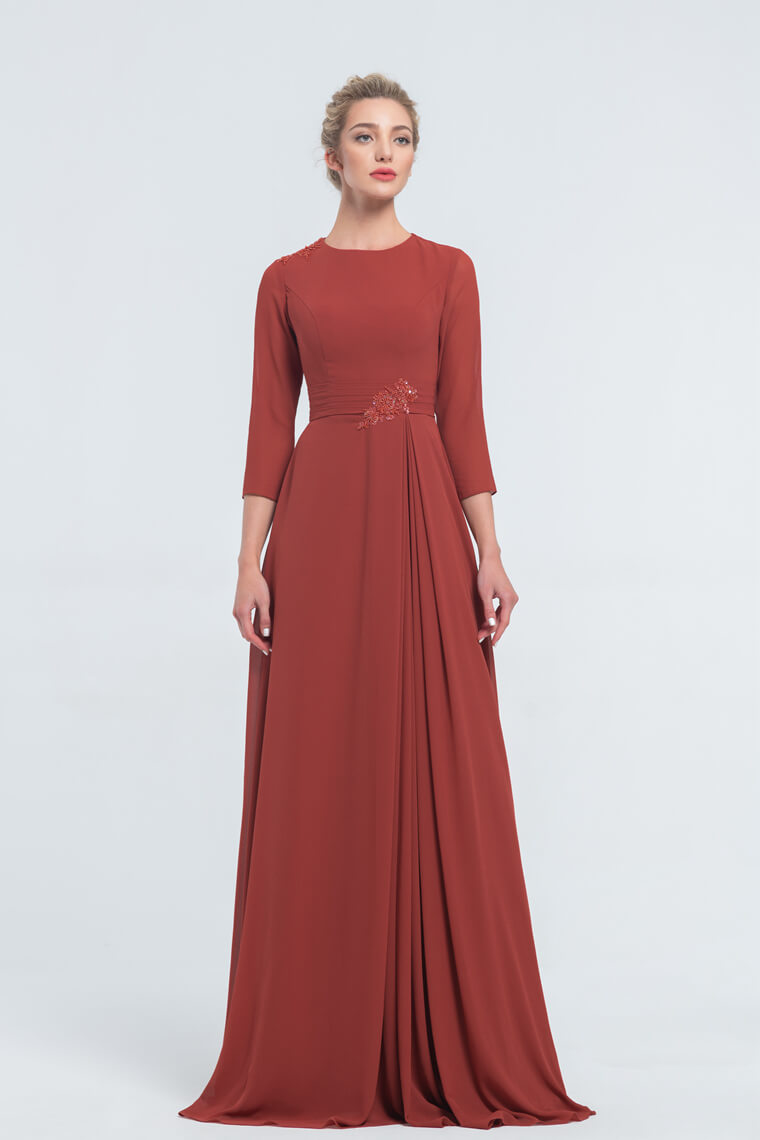 Sea glass Modest Mother of the Bride Dress Long Sleeves
If you're looking for a modest dress that brings a little bit of color to your look, then consider choosing a light seafoam green or blue gown. Such colors can be perfect. Spun of crepe chiffon fabric, it's made in a beautiful sea glass color, round neck and long sleeves look modest and elegant, popover top adds more relaxed vibe.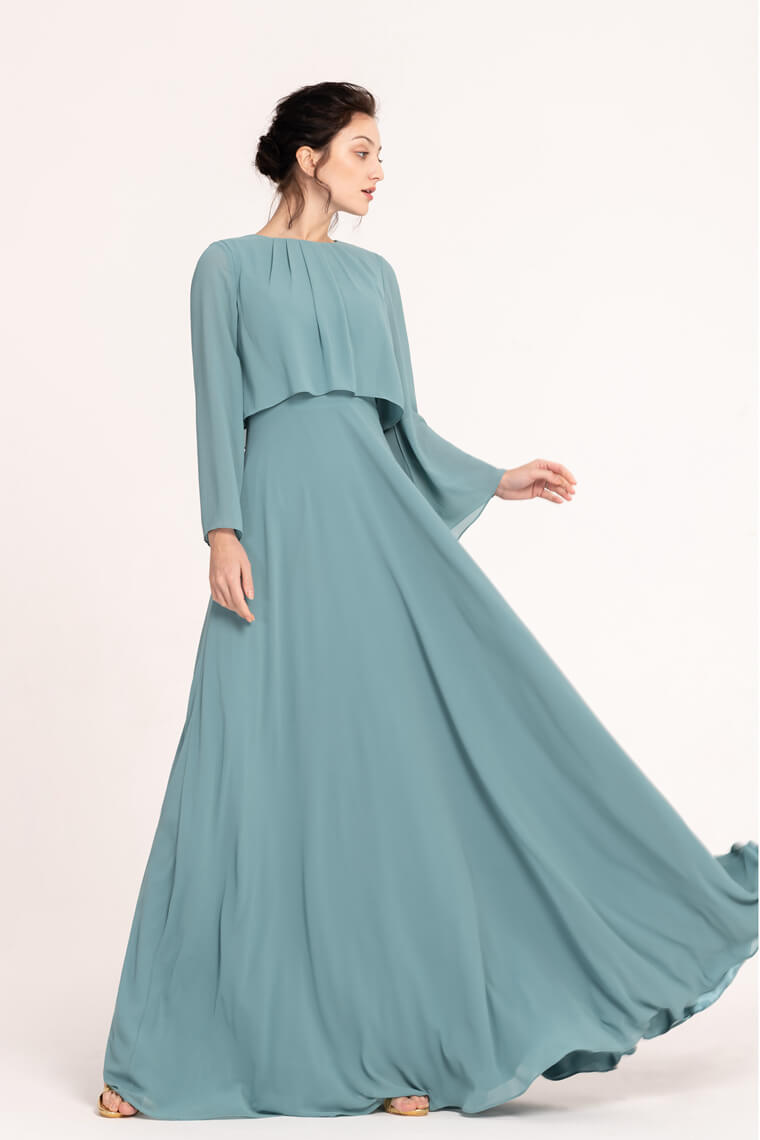 This beautiful navy dress features a O-neck design, three quarter-length sleeves and an embroidered bodice. This dress looks stunning on its own or with accessories such as a shawl, or shrug to add that extra bit of style. Just pair it with some black heels and you're ready to go.