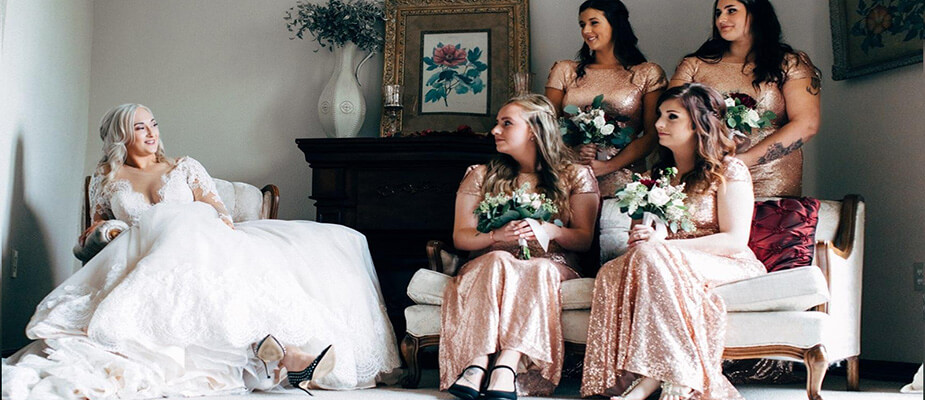 It's finally here! The season of wearing sleeveless dresses and strapless tops has gone. eDresses with more coverage and sleeves has come, and with it, so has bridesmaid dress season! If you're in the market for the perfect dress to wear on your friend or sister's big day, then read on to learn about some of the best modest bridesmaid dresses with sleeves that you can find online today.
Modest bridesmaid dresses can make a simple look absolutely stunning, and they're so easy to find these days! There are so many different styles of sleeves to choose from—short, long, cap-sleeve, bell-sleeve, 3/4-sleeve, etc. Modest bridesmaid gowns are so hot right now and they can really make your wedding day look stand out. You don't have to settle for frumpy, old-fashioned styles! Here are some of our favorite modest bridesmaid dresses with sleeves that are on the market right now. Try one on this season and show the world how beautiful you can be without revealing everything!
Outfit 1: Burgundy Modest Chiffon Bridesmaid Dress with Lace Bolero Elbow Sleeves
This burgundy dress is so breathtaking. The bodice has a v-neckline and spaghetti straps, a great floor length with middle back zipper and an elbow-length sleeved lace bolero is included. The skirt has an A line silhouette which means it will give an elegant appearance on all body types. Completes your bridal party look with statement jewelry and heels. This dress would make a stunning bridesmaid dress or even as something special to wear to your next big event!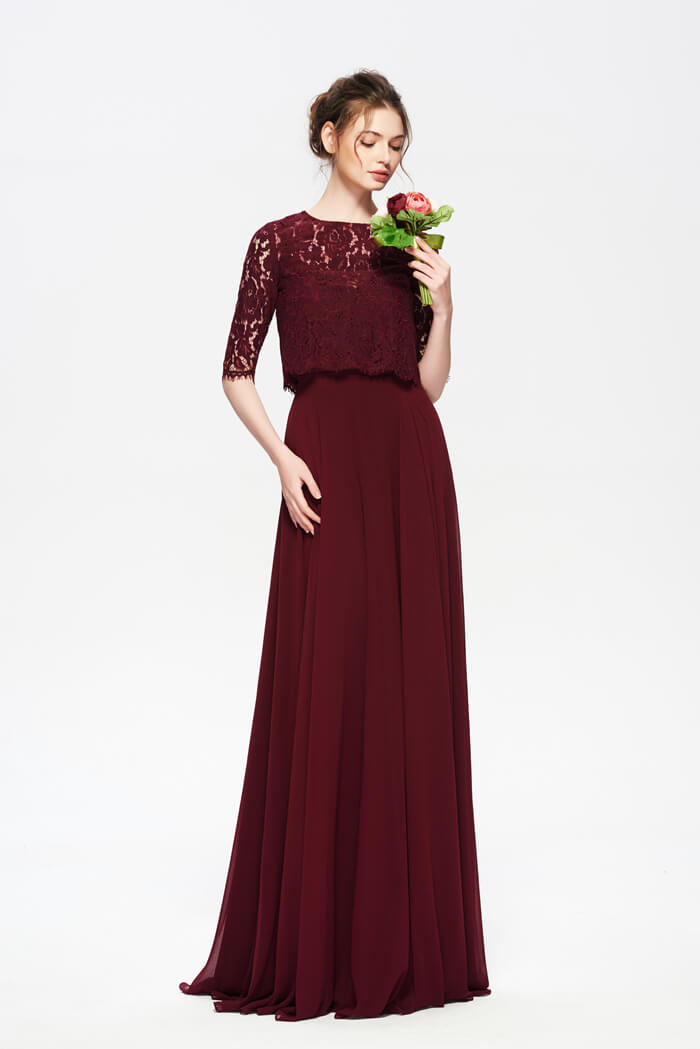 Outfit 2: Dusty Rose Modest Pleating Chiffon Bridesmaid Dress Short Sleeves
A bridesmaid gown with a O-neckline and modest short sleeves, featuring pleating on the whole dress. This dress comes in dusty rose color which is perfect for weddings all year long and especially for spring & summer wedding or destination wedding. It has an elegant floor length skirt that makes you look taller and slimmer. It's lined with inner support so you can wear it without a bra if you like.
Outfit 3: Dusty Blue Modest Crepe Bridesmaid Dress Flutter Elbow Sleeves
DTo create a chic and modest bridesmaid look, take inspiration from this bridesmaid dress that features O neck and wide-set flutter sleeves. A-line skirt with an elegant flowing fit. The dusty blue color gives off an air of retro-glam while being entirely appropriate for your sophisticated wedding. The flattering style comes in more than 120 colors!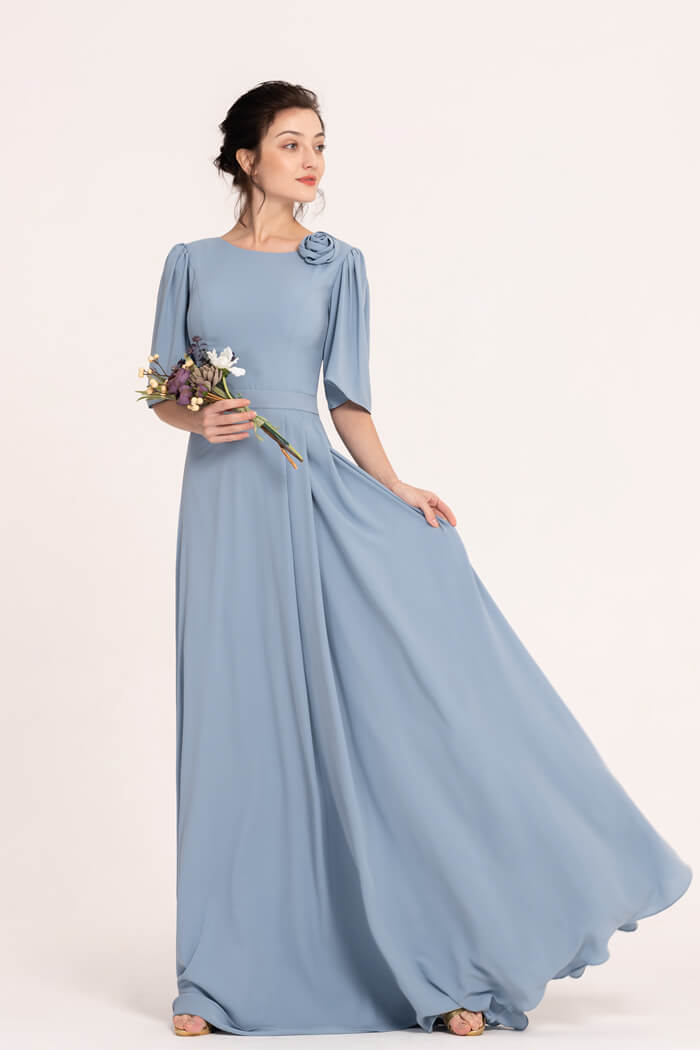 Outfit 4: Dusty Rose Modest Chiffon Bridesmaid Dress Cap Sleeves
On your wedding day, this dress will be sure to draw compliments and head-turns. The chiffon material will flow as you walk. The narrow boat neckline will give an air of sophistication and elegance. Delicate beadwork around waist adds more sparkle and highlight. This modest bridesmaid dresses with sleeves is perfect for any outdoor weddings or any black-tie weddings. Pair it up with flats, wedges or heels for a formal look. Or pair it up with flat sandals for a casual look on the big day!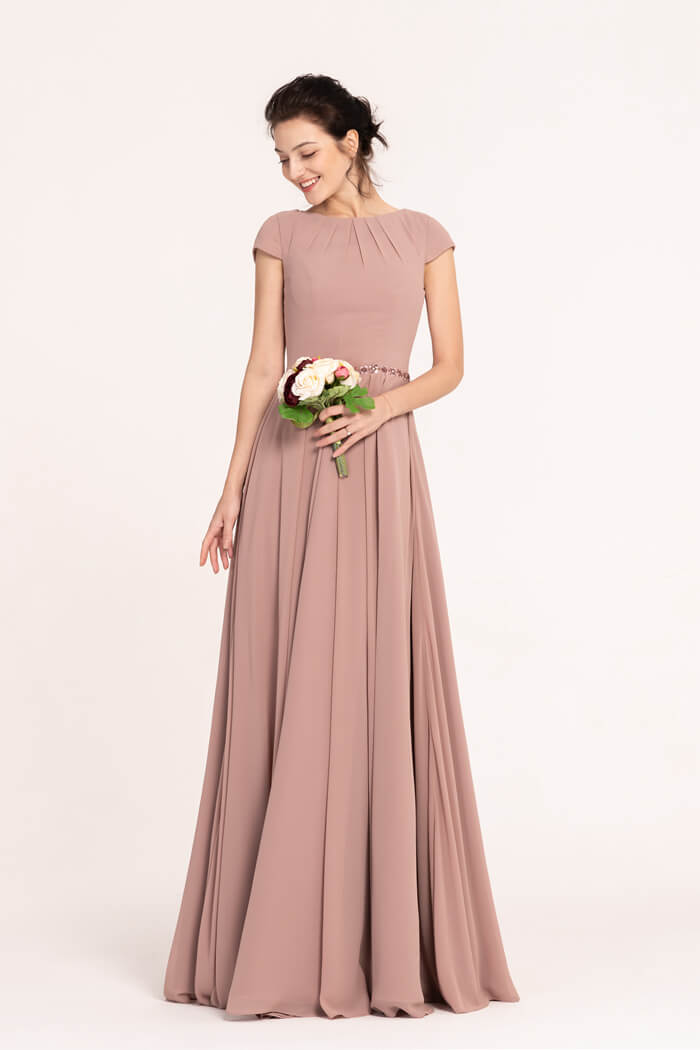 Outfit 5: Minimalist Modest Dusty Blue Satin Bridesmaid Dress Cowl Neck with Pockets
The minimalist dress is made of soft satin fabric. The cowl neck adds a touch of elegance to your overall look. This fashion piece comes in dusty blue color, which complements all skin tones beautifully. They also have pockets that can be used to hold accessories or jewelry.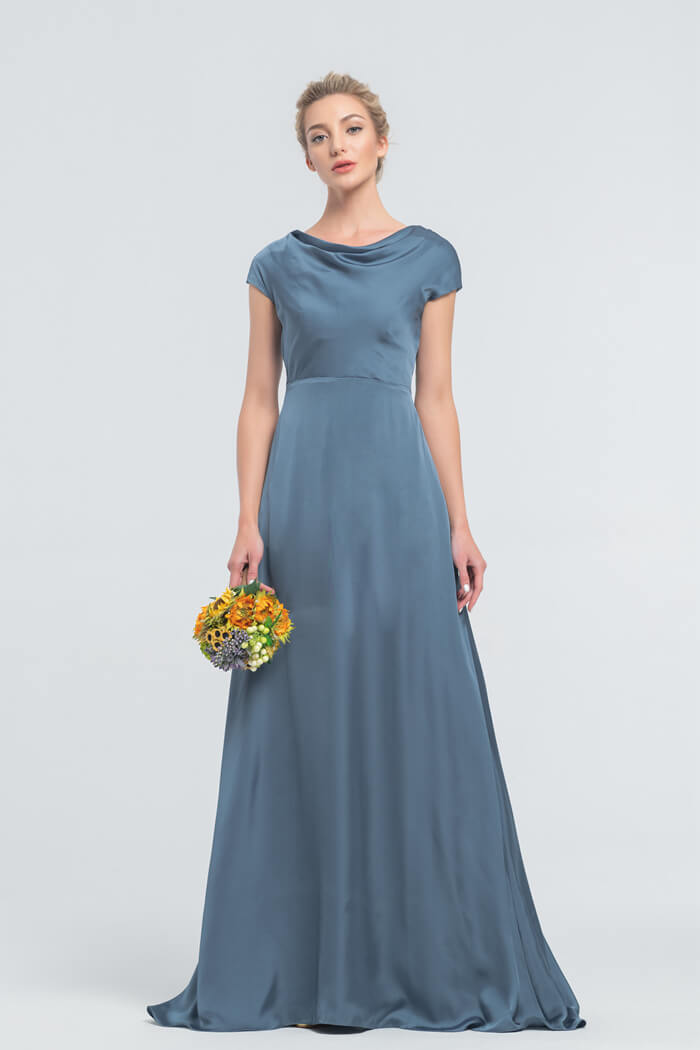 Outfit 6: Modest Rust Color Chiffon Bridesmaid Dress 3/4 Sleeves
This charming rust colored chiffon A line floor length bridesmaid dress is just what you need to look stunning at your best friend's wedding. It features 3/4 sleeved with a round neck, A line skirt will make you look simple yet elegant and comfortable. It comes in 120 colors, choose it in sea glass color or sage color, terracotta color or other colors that go well with it.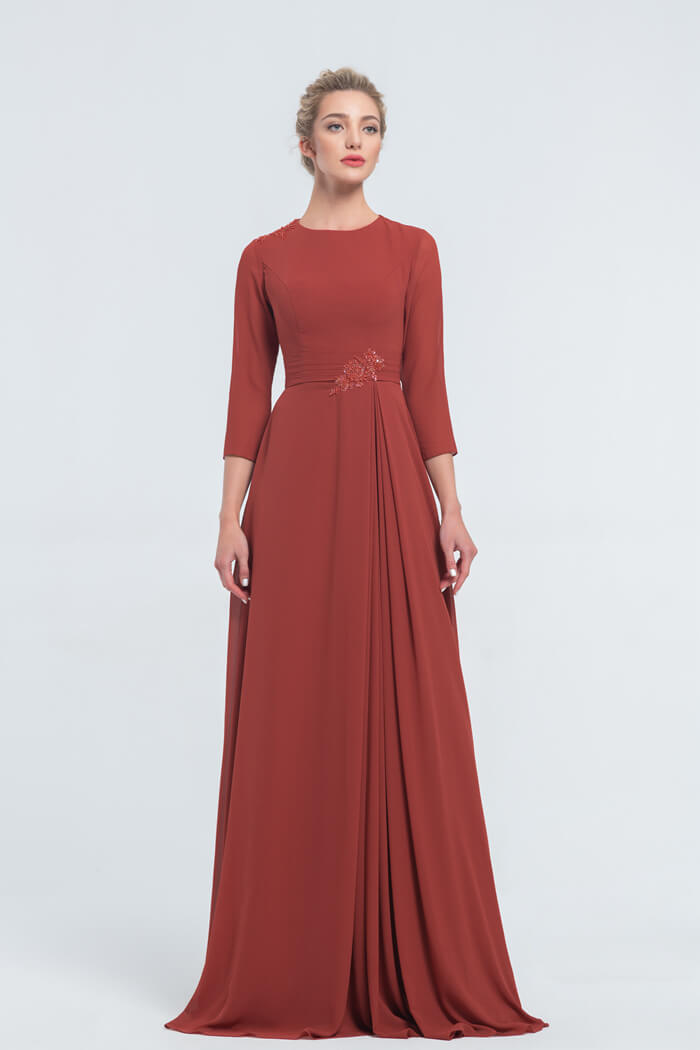 Outfit 7: Champagne Modest Satin Midi Bridesmaid Dress
A flirty and feminine wedding day bridesmaid dress that will have your friends feeling as beautiful as you on your big day. This satin champagne colored dress is paired with jewel neck bodice, and midi length skirt. A great choice for out door wedding season or beach themed weddings. The flutter short sleeves complete the modesty and showcases a relaxed vibe.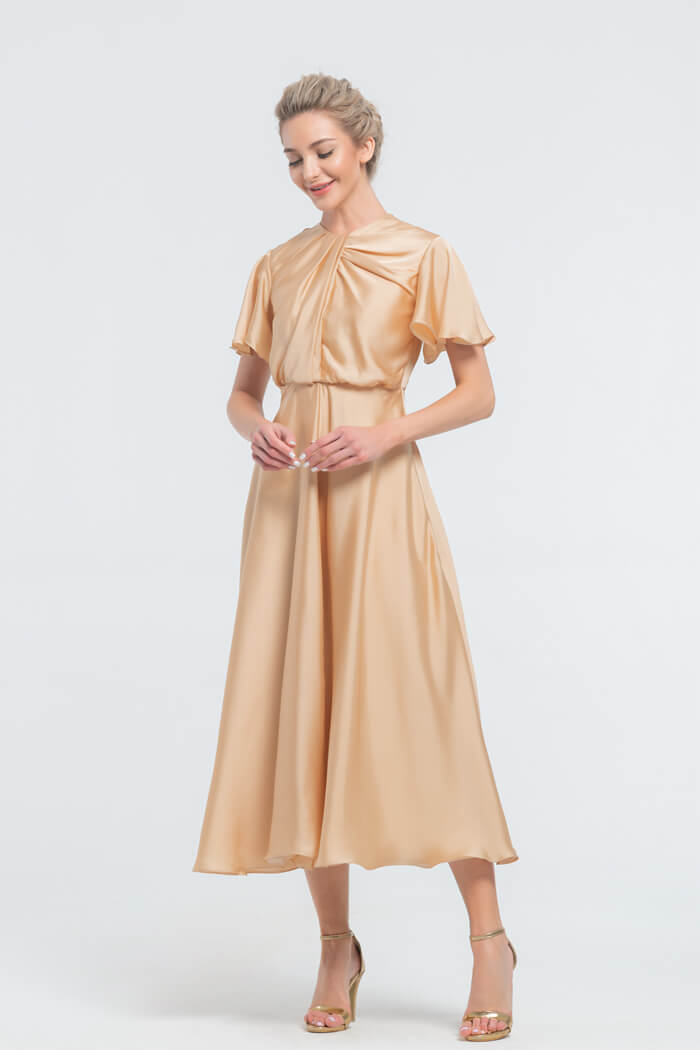 Outfit 8: Modest Burgundy Velvet Bridesmaid Dress Long Sleeves
This dress is sure to attract compliments and oohs and aahs on your wedding day. It's modest, yet sexy. The burgundy velvet fabric will make you feel like a star while still keeping it classy and elegant. The mock neck is one of the most popular trends for wedding 2023. The hemline falls on the ground. And don't forget about that thigh-high slit! You'll be able to dance all night without worrying about stepping on it.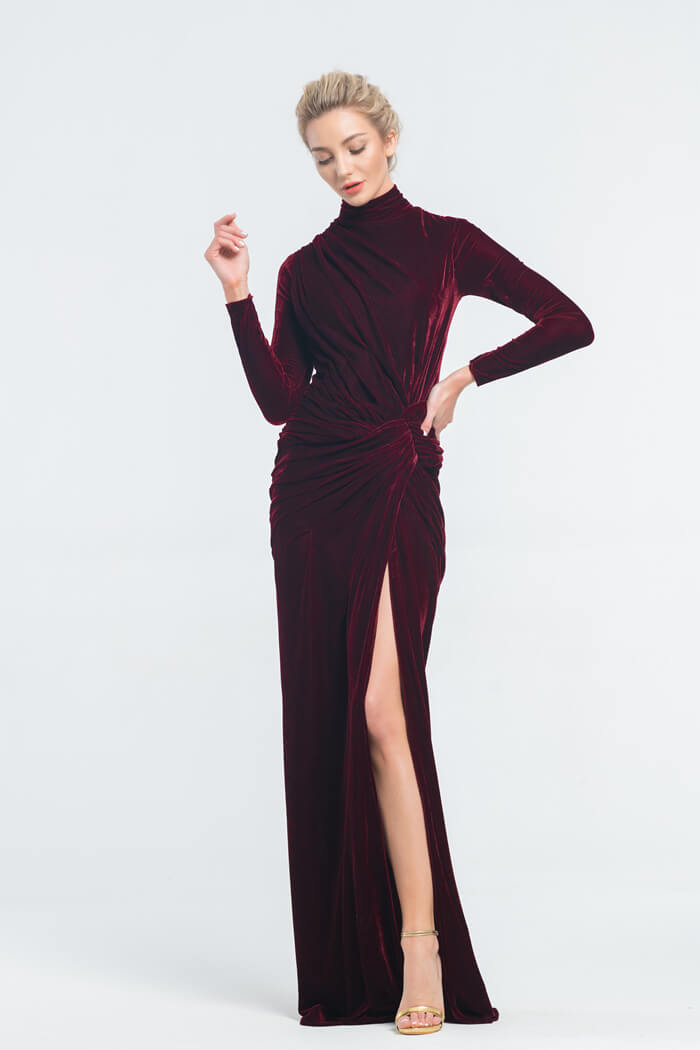 Outfit 9 :Dark Emerald Modest Velvet Bridesmaid Dresses with Pockets
Being perfectly understated, elegant and classic, the dark emerald velvet dress is definitely your best choice. Floor-length, with a O-neck and covered top, it makes you like a princess. A Line skirt is always excellent choice because it not only fits every body shape but also hide your tummy flaws naturally. The two side pockets are perfect for your cell phones and small pieces. The noble velvet fabric will be perfect for autumn weddings and winter weddings.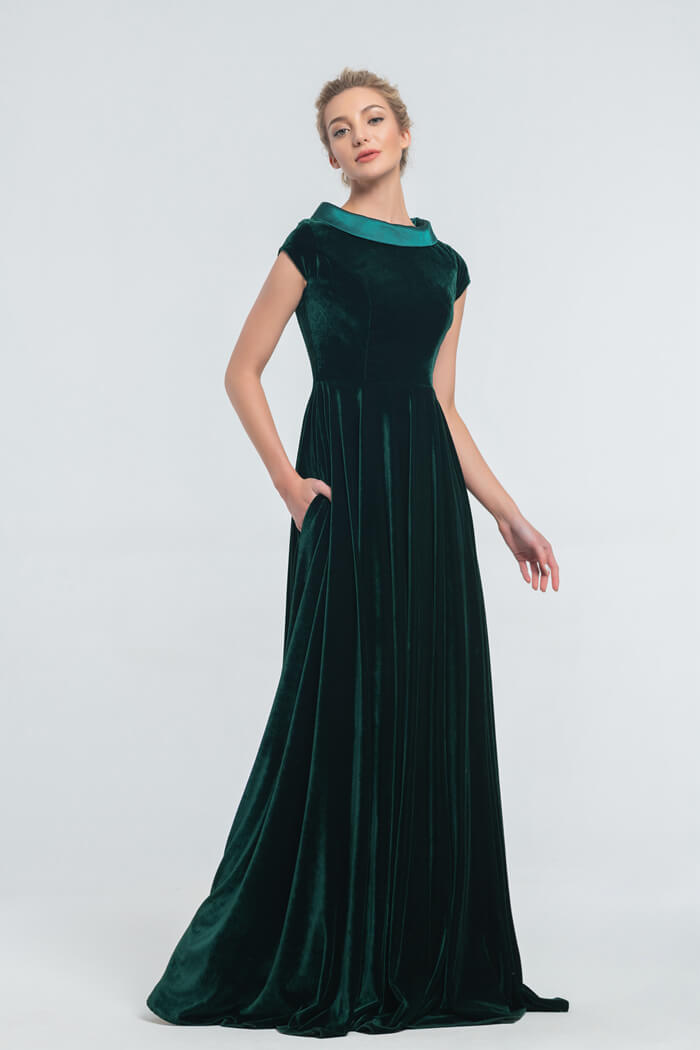 Outfit 10: Black Long Chiffon Bridesmaid Dress Short Sleeves
Black is definitely the most beloved color for 2023 weddings! This bridesmaid dress has short sleeves with a O-neck. It's paired with a delicate lace trim to finish off your look, making you feel like an A+ bridesmaid! Made of airy chiffon fabric, it's flowing beautifully when you dance. Sophisticated ruched top and satin waistband add more highlights to the dress.