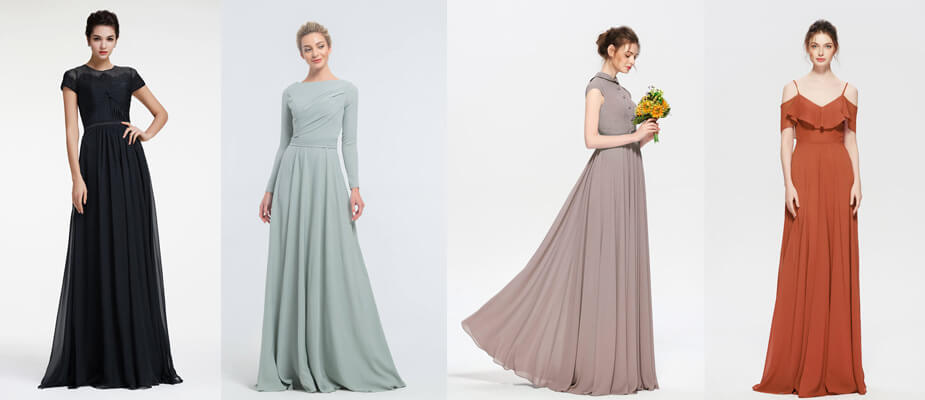 Every year we get introduced to new trends and we follow them closely. Weddings also have different trends that are important to follow. When we organize weddings, we pay attention to every detail, and we also pay special attention to the bridesmaids. It is important to dress them within the trend's guidelines. And what are the trends for 2023, see below!
The wedding season is coming soon, so it is about time to think about what will be fashionable next year.
The bride should choose her favorite color and style according to the theme of the wedding.
Here are the most attractive color tones and mix and match advice for 2023 that you can pick for an upcoming wedding event as a bridesmaid.
Bold Jewel Colors
For a long time, bridesmaids wore delicate, minimal colors. A big change is coming next year. The colors are coming back! rRich jewel tones (such as sapphire blue, ruby red, royal purple, and emerald) have made their way into weddings all year long.Bold colors will add a touch of playfulness and joy. Say Yes to them!
This year, bridesmaids will wear bright colors.These colors are very popular and will be seen everywhere in the coming 2023. They're perfect for brides who want to be stylish and fashionable.
Try something vibrant with this royal purple dress! Featuring a boat neckline with crystals around it, this bridesmaid dress has sheer long sleeves, gathered skirt will show a airy and flowy look when you move. Enjoy the big day in it!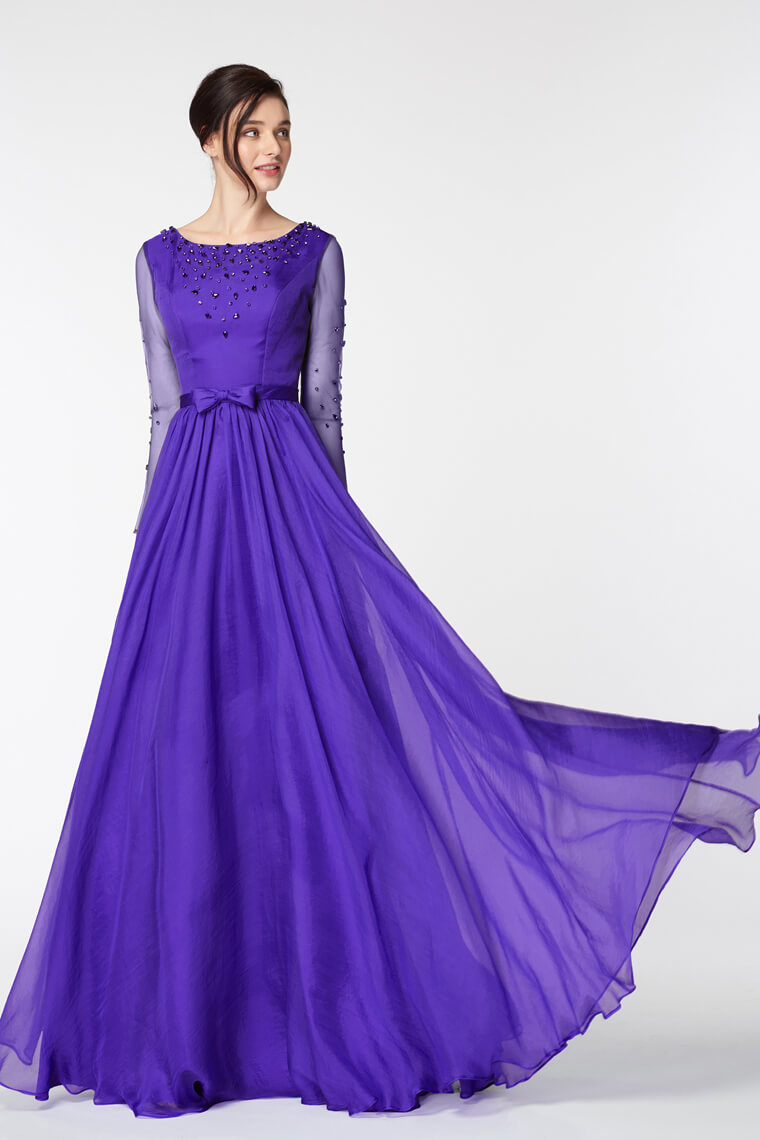 This ruby red satin bridesmaid dress is a must have for your wedding day! Off the shoulder neck to show off your pretty shoulders, and satin shines beautifully, A line skirt is rich gathered and looks luxurious!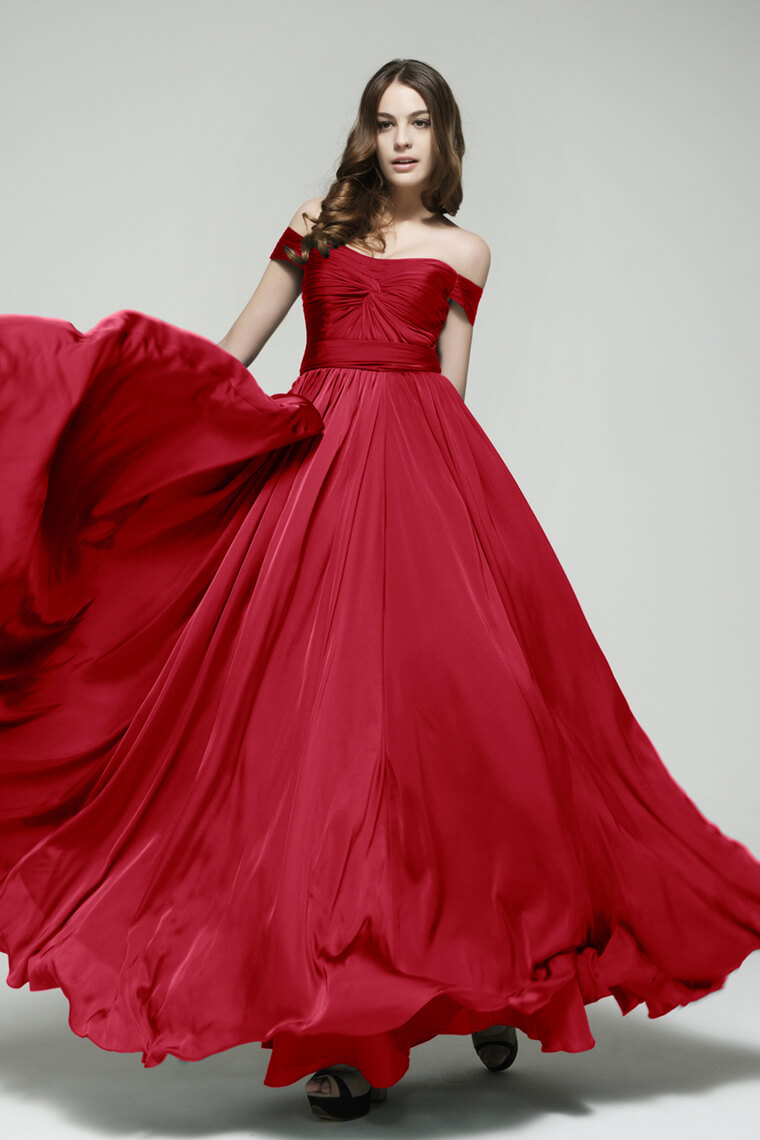 Unusual Black Dresses
As we can see, more and more young people decide to make an elegant contrast, and next to them in a white wedding dress they imagine bridesmaids in black.
We have to admit that combination looks very very elegant! V neckline, spaghetti straps and satin makes this dress very lavish.
This 3/4 sleeve bridesmaid dress is spun of silky crepe chiffon. The bodice of this dress is sewn with lace appliques decoration, while the skirt is gathered and flows into an elegant A-Line silhouette. This dress also includes a thigh-high slit.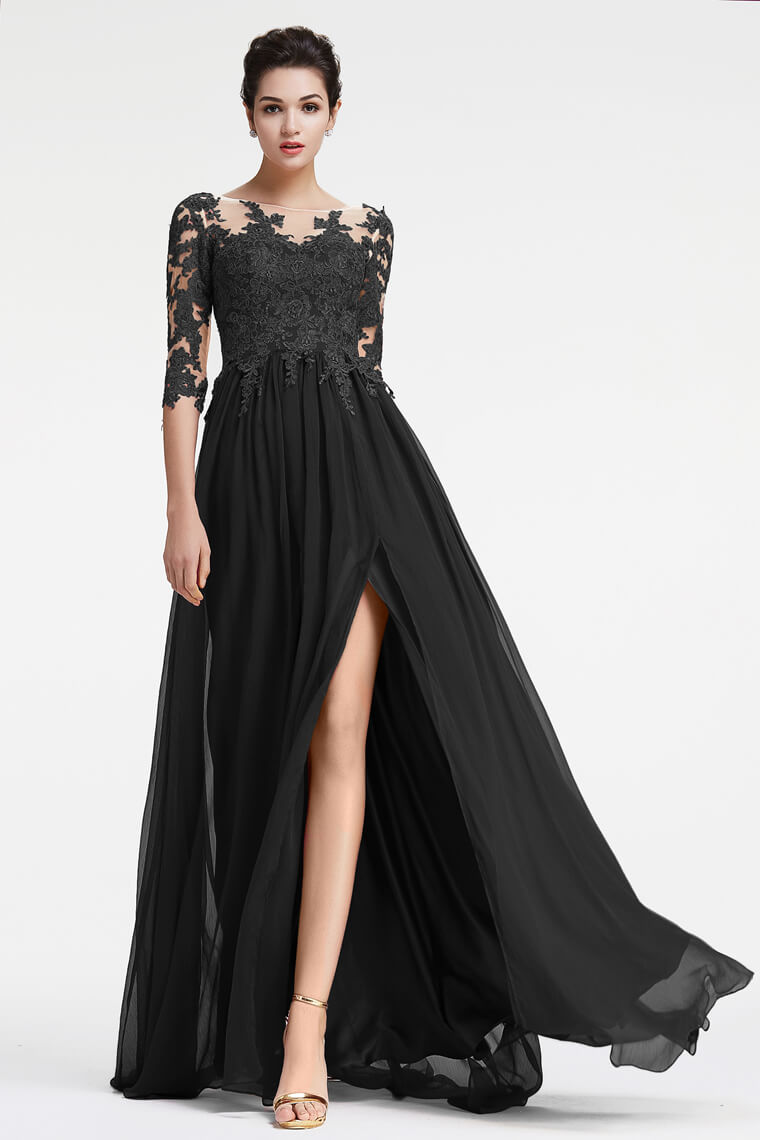 It is a simple and classic design, which can be worn by any type. This dress has a round neckline with lace trims to highlight your beautiful figure. Unique designed ruching bodice with a highlighting satin waistband. The soft airy chiffon flows beautifully with every of your step.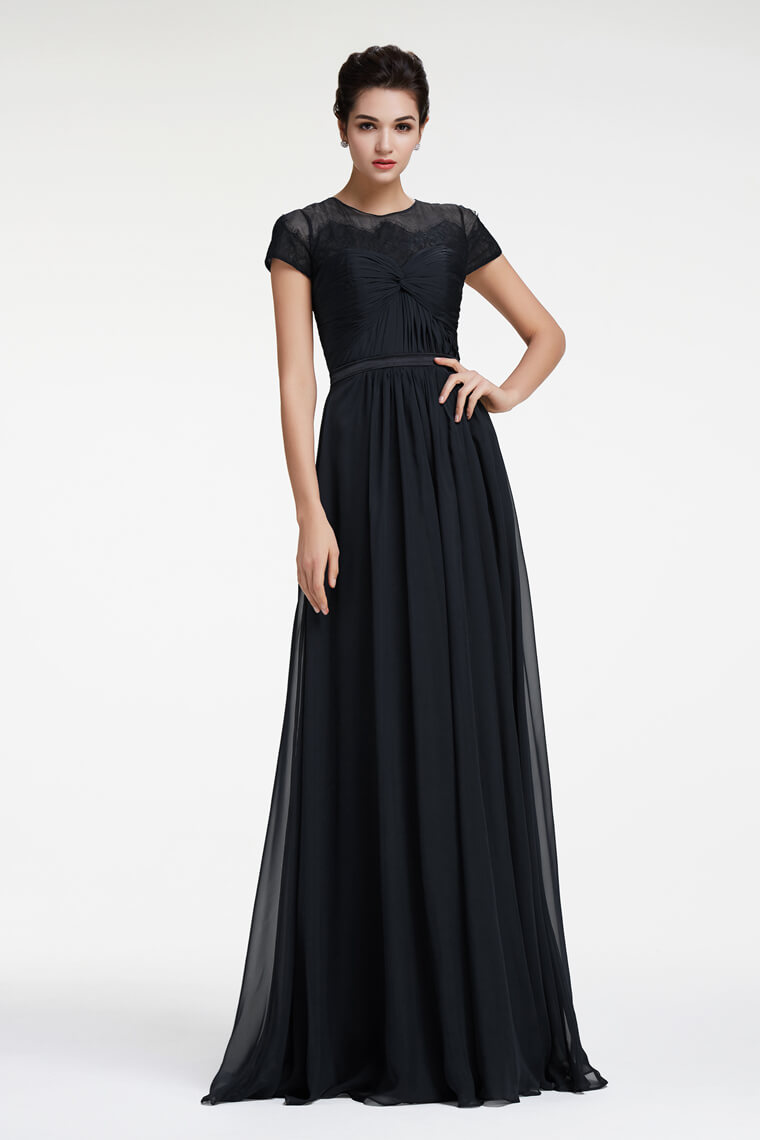 Terracotta and Rusted Colors
Those warm colors — burnt orange, terracotta, rusty reds, marigold, and rosy pinks — started to be popular in 20201, and will be stronger in the coming 2023. They're ideal for bohemian and country-style weddings.
The convertible bridesmaid dress is spun of crepe chiffon fabric. Spaghetti straps with elegant drapes that can be worn in 3 ways, under the armpit as a draping decoration, off the shoulder, or on the shoulders as cap sleeves. It comes in a variety of colors sizes, you can find the perfect piece for the big day!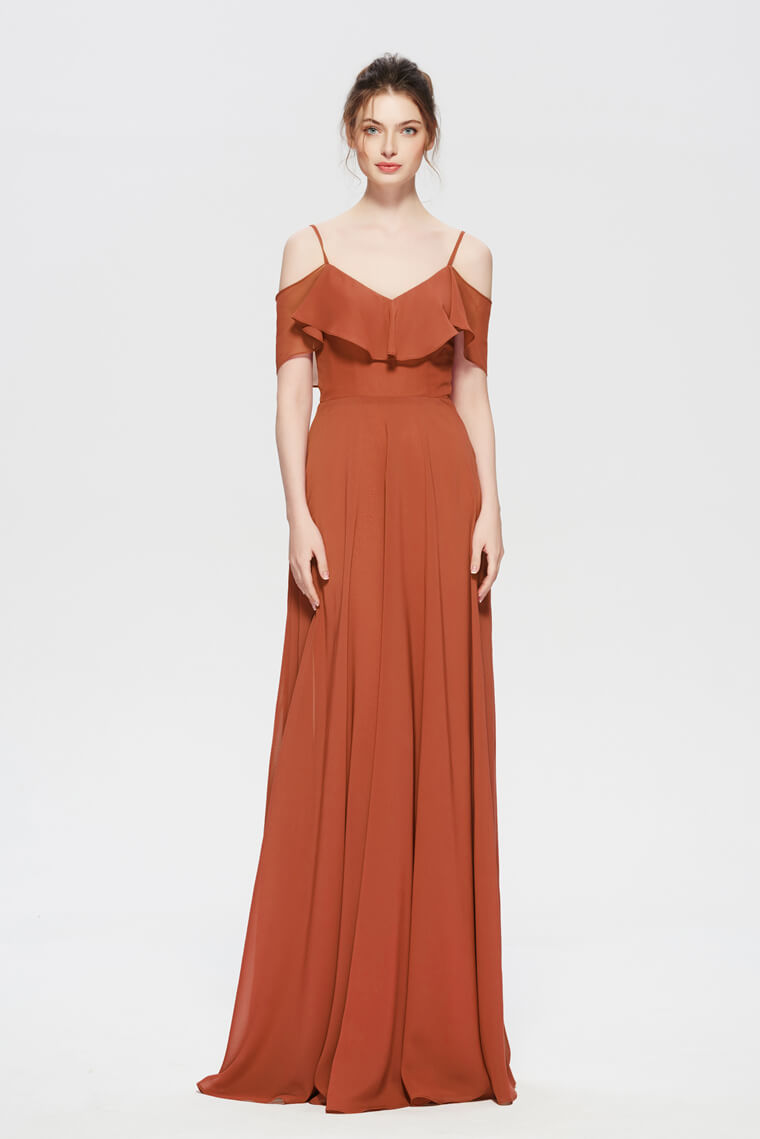 The Modest Terracotta Bridesmaid Dress is a stunning, elegant and timeless style that all your squad will feel happy in it. The simple design makes the cost of the dress so inexpensive, yet the bow and ribbon adds enough taste and elegance. Small round neck and cap sleeves finish the modesty.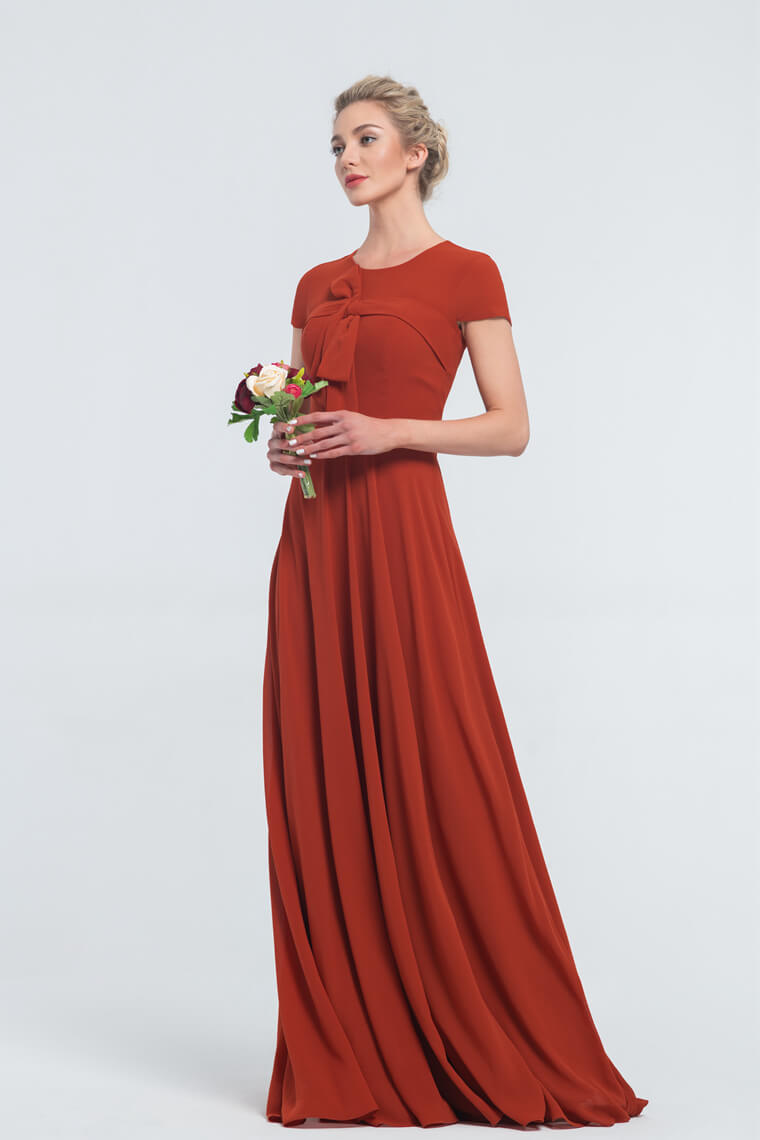 Earth Tones & Neutral Colors
To create an elegant, relaxed atmosphere for your wedding ceremony, select neutral colors such as cream, blush pink, champagne, and dusty blue. Pair these beautiful shades with darker rust and olive greens for a natural look.
Earth tones are great outdoors because they create a welcoming environment. Neutral colors such as ivory, champagne, and dusty rose create a calming and relaxed environment. Adding rust and olive green accents for depth and dimensions.
A beautiful earthy tone bridesmaid dress, spun of crepe chiffon fabric, it features a modest small round neck, with beaded accents at shoulder and side waist, the elegance is completed. Decorated with box pleating details, the A line skirt falls gracefully.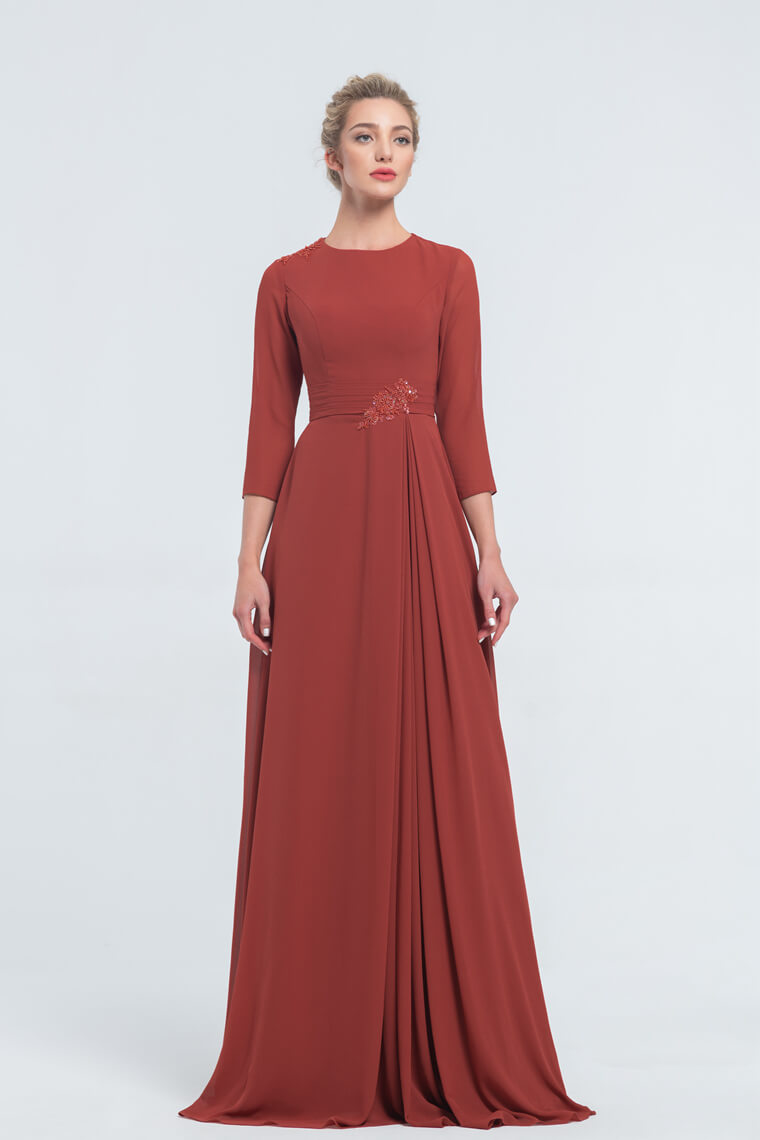 This dress is perfect choice for a brides who wants their squad look elegant and sophisticated without going over the top. It's made of an understated, neutral color palette that will complement any wedding theme or style. The jewel neckline is simple and modest, hand sewn beadings add more charm and sparkles, and turn the whole piece vivid and brilliant.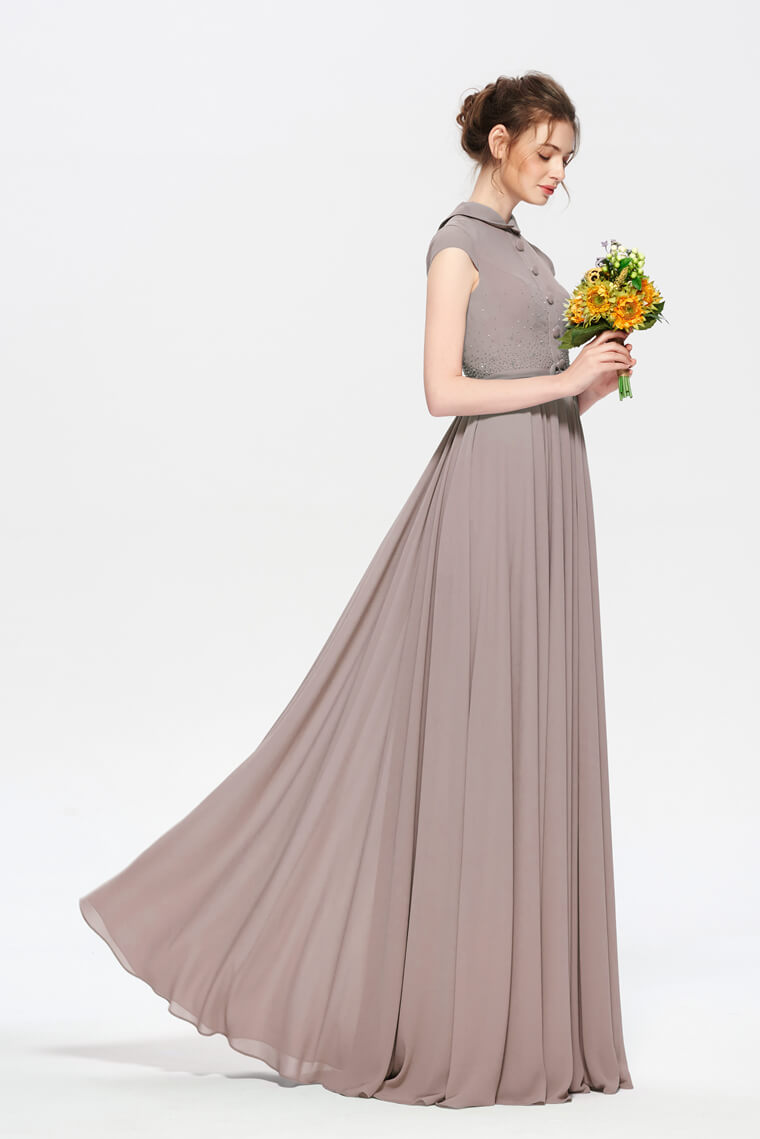 Sea Glass and Sage
Sages and seafoams are restful, tranquil and relaxing colors. These uncommonly beautiful greens are growing into one of the most sought after colors of 2022 and will continue to 2023. Greens are universally flattering, and compliment any other colors. Try your gowns in dusty sage or eucalyptus for a lovely, elegant and romantic wedding palette.
The long sleeved bridesmaid dress with popover top gives a relaxed and natural atmosphere. It's made of crepe chiffon fabric in a beautiful shade of sea glass.If you are looking for a simple yet elegant dress, this one is perfect!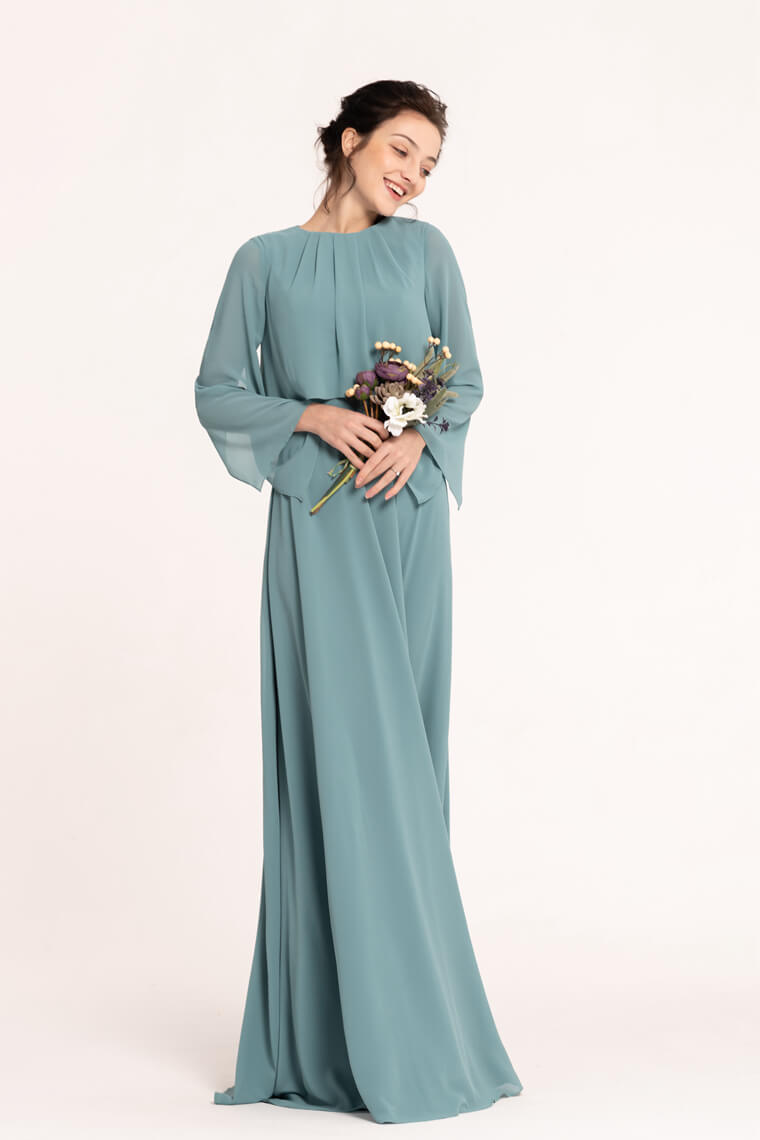 This is a timeless and effortless bridesmaid dress with a dusty sage color and A line silhouette. Hand made ruching decorations on the top look so tasteful and graceful, the narrow boat neck and long sleeve design complete the modesty.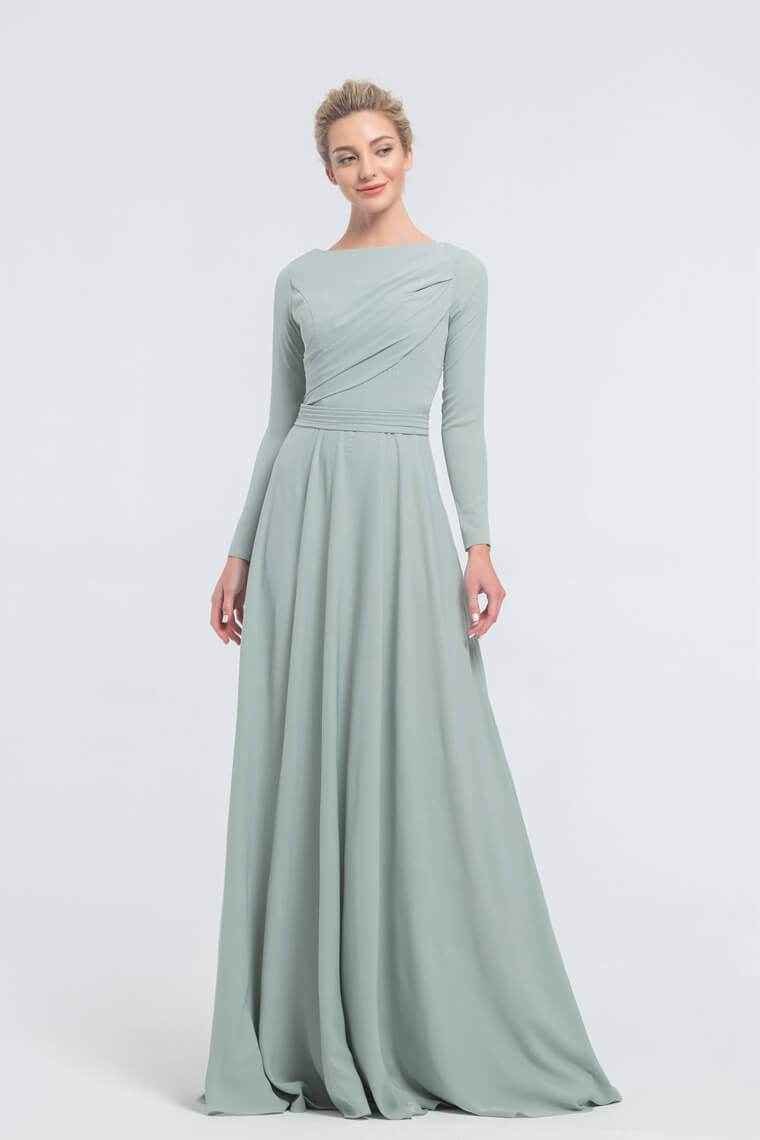 Light Blue & Very Peri
In 2023, wedding trends will include lighter blues such as Porcelain Blue and Very Peri. "Very Peri," or PANTONE 17-3938 if you wanna get technical, is defined by Pantone as "a dynamic periwinkle blue hue with a vivifying violet red undertone," affecting an air of mindfulness and warmth. From invitation cards to bridesmaids dresses and table linens, these two colors are going to lead the 2023 trend.
This stunning bridesmaid gown features a beautiful mock neckline and full skirt. The middle front is decorated with crystal buttons that adds more sparkles and charm. This dress will be sure to make your wedding day one you'll never forget!
The bridesmaid dresses is made of crepe chiffon fabric in a vary peri blue color. Cowl neck as a hot trend for 2023 features more elegance and relaxed feel. Covered back and cap sleeves make the modesty of the dress.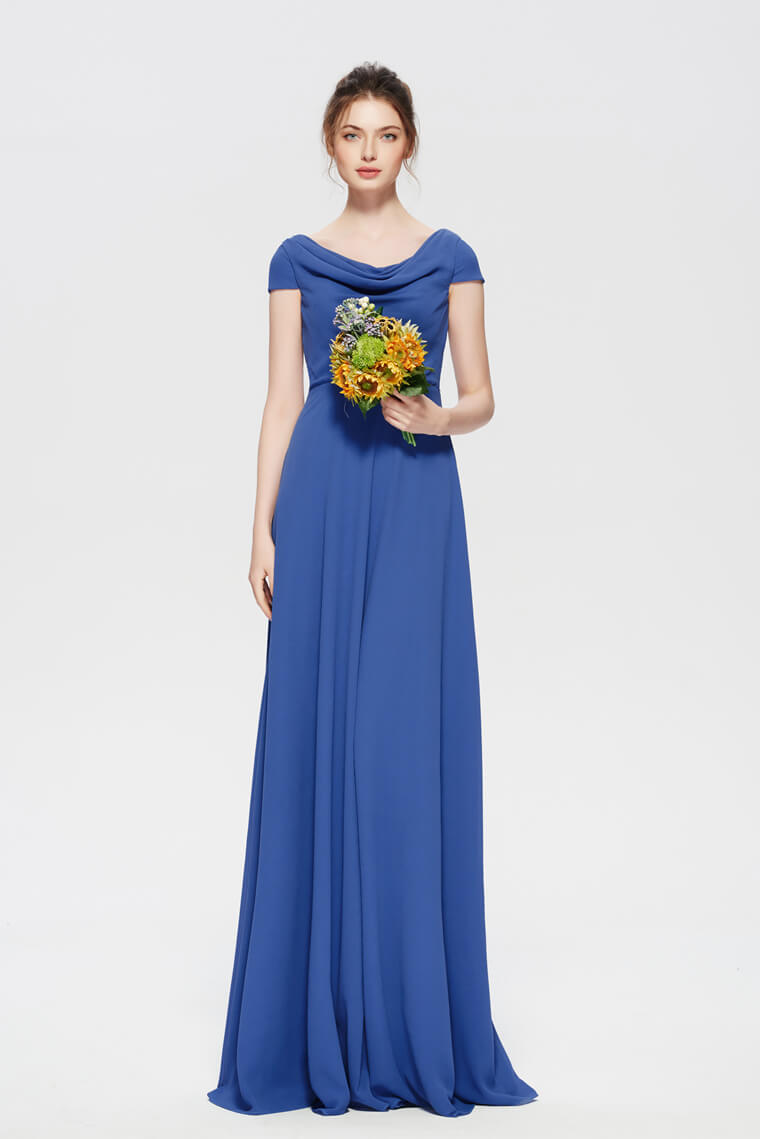 Green Tones
Green tones in the form of freshly cut greens have become popular for wedding themes. Greenery work well with weddings no matter when they're held and with any color scheme. You'll see lots of green tones at weddings this year and will continue to grow in popularity, especially green shades that continue into linings, flower arrangements, table settings, and fabric. Green tones work well with weddings throughout the year.
The dress will definitely standout with its beautiful eucalyptus color and overall pleating details. Modest round neck and short sleeves will suitable for any dress code and wedding type. The dress come in 120 colors, and we are confident you will find your ideal vibe!
Dark Emerald
Dark emerald green is a luxurious color that looks great on women. If you are finding color for winter weddings, dark emerald green in velvet fabric would be perfect! Dark emerald creates noble and elegant feeling, it matches well with many colors like gold, sage, beige.
The Dark Emerald Satin bridesmaid dress is a sophisticated and elegant gown that will make you feel like the most gorgeous! The top is design in a relaxed and natural silhouette, the narrow V neck and dolman sleeves in full length finish the modest look of the dress.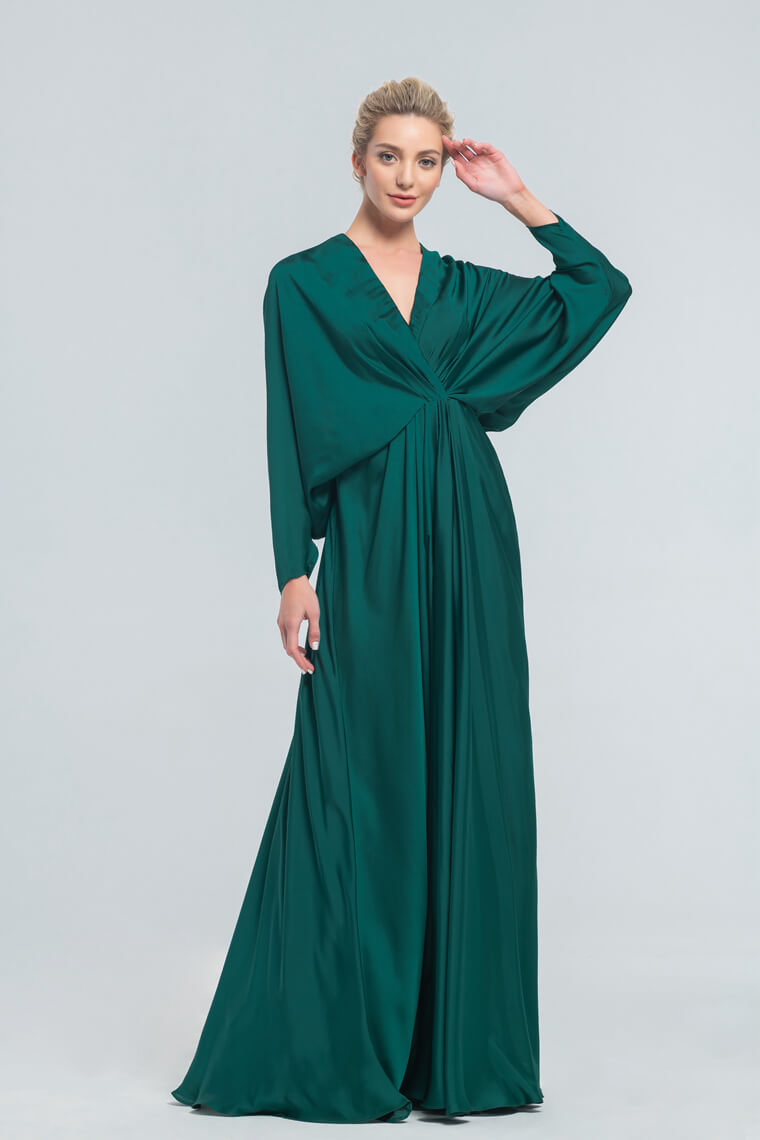 The Dark Emerald Satin bridesmaid dress is a sophisticated and elegant gown that will make you feel like the most gorgeous! The top is design in a relaxed and natural silhouette, the narrow V neck and dolman sleeves in full length finish the modest look of the dress.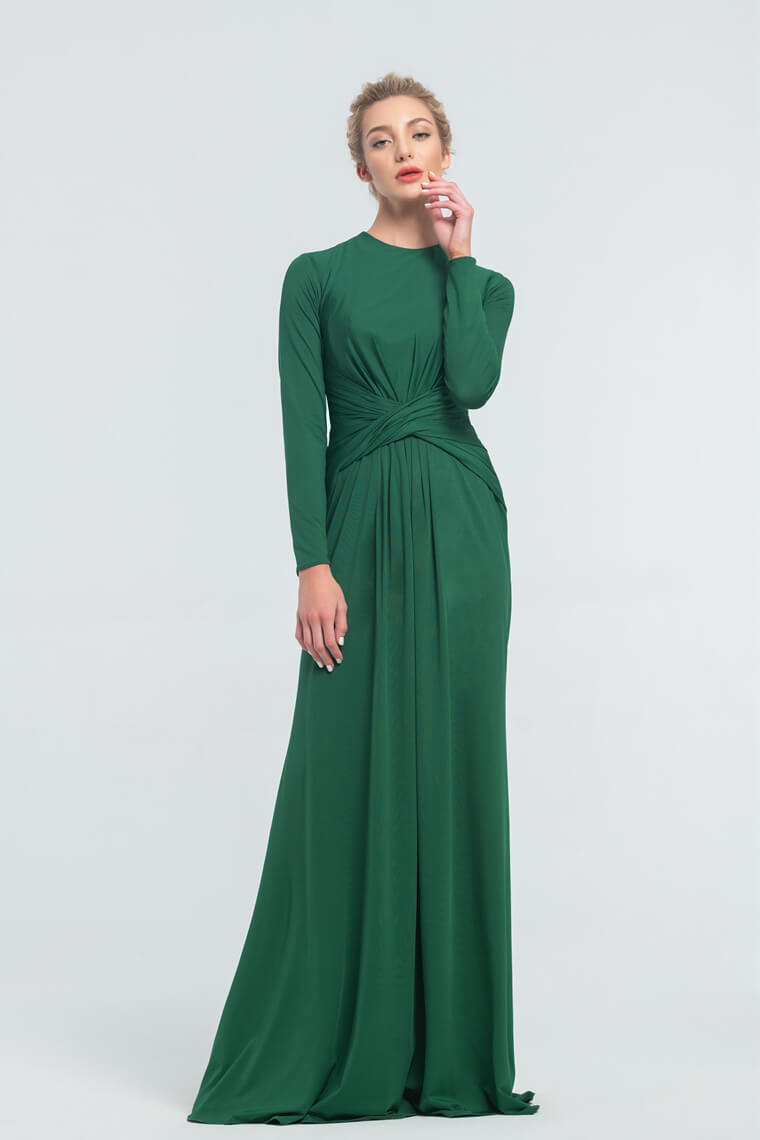 Seafoam Blue & Green
Seafoam colors are popular among couples who want to tie the knot on the beach. sSeafoam blues and greens ombre are ideal theme, discuss with your squad and associate different seafoam tones with them!
This is a beautiful bridesmaid dress that your squad will definitely love! The Seafoam green color of this dress makes it look so pretty and and fresh. The hand ruching adds more details, with the elbow sleeves, it's ideal for bridesmaids who love to wear something modest. Moreover, it's bump-friendly designed with it's middle empire waist.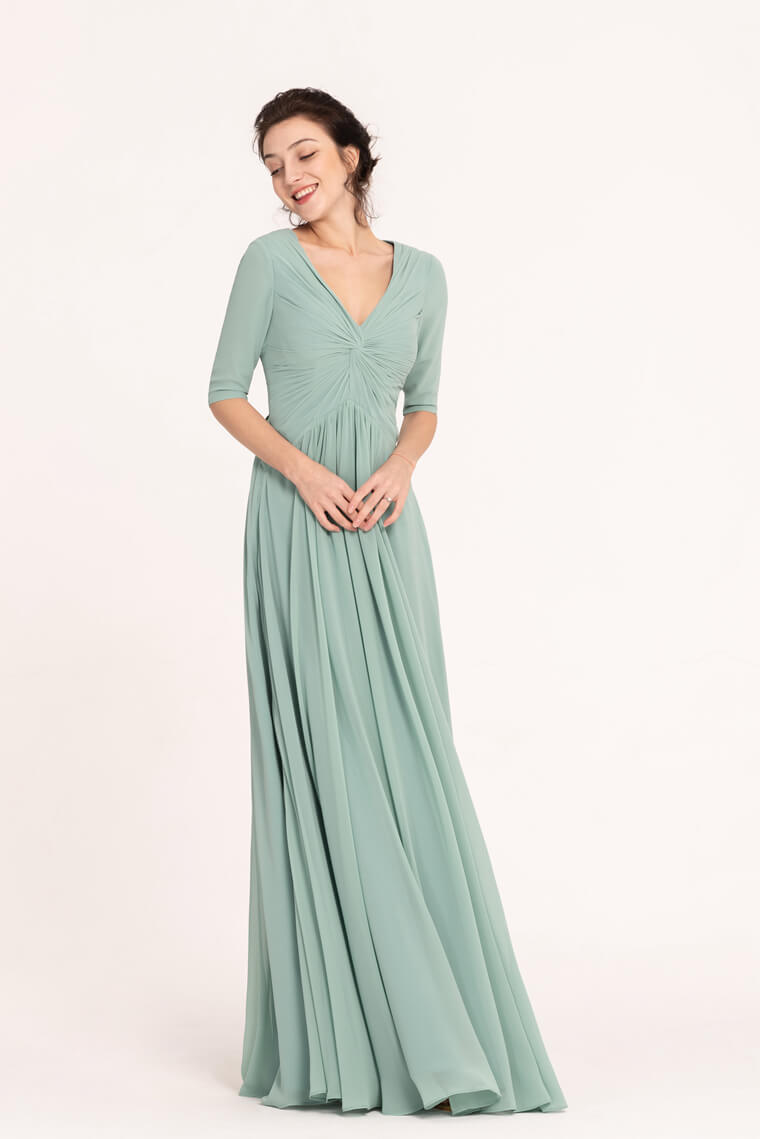 Seafoam Bblue is a color that can be used in many ways. It's not just for the bridal party, but also for the wedding ceremony and reception. The seafoam flowing chiffon long bridesmaid dresses features halter neck and ruching top with a sexy slit in the middle. Airy chiffon fabric flows beautifully when you move and dance