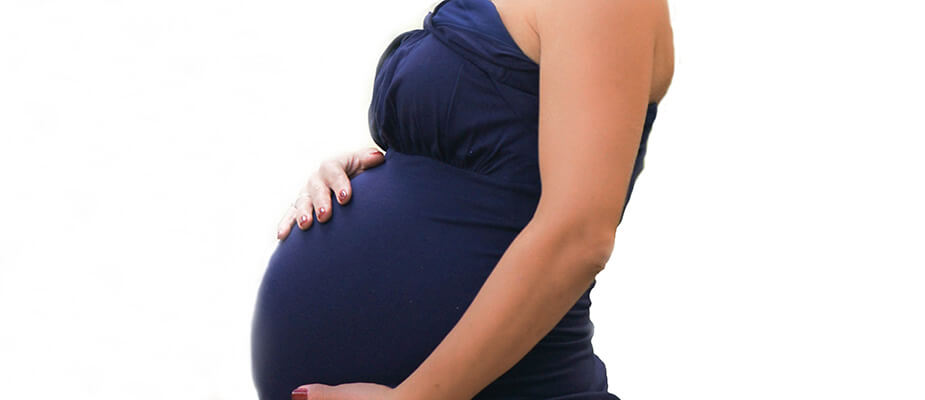 The wedding season is just around the corner and you are invited to be one of the bridesmaids of your best friend, and probably already shopping your dress. But you find that you are expecting! Pregnancy is not an easy task. It puts stress on every part of your physical and mental health. You might want to be careful not to pick something too tight for your body type. It is equally important at this point to look good in your dress and to be comfortable as well.
Before shopping a dress, Here are some questions for you to make clear after you found your pregnancy.
When Should You Tell the Bride That You're Pregnant?
You discover you're pregnant. Before you've even told anyone else, your best friend asks if you'd be willing to be a bridesmaid for her wedding.
Should you say yes?
Most pregnant woman wait until they're at least 12 weeks pregnant before telling anyone else about their pregnancy. However, there's no set time limit for when you can share your good news. It depends on how you feel.
You may want to tell the wedding planner that you're pregnant if you feel comfortable doing so. However, most women wait until they've reached their second trimesters before telling anyone. So, choose what is best for you.
If you're planning to accept an invitation to be a bridal party member, you may want to think about whether you'll be able to attend the wedding if you become pregnant before then.
If your due date falls several weeks or even a few months after the wedding, then be her bridesmaid!
If that wedding happens to coincide with your due dates, you might want to decline the invite just in case you go early or go late.
If she wants you there at her ceremony, tell her that it would probably be better if you attended as a guest rather than a family member. You can still plan her bridal showers and assist her with making preparations for her big day.
When to Order Your Bridesmaid Dresses?
Everyone of the crew should order her dress at least six month before the wedding date and should buy them together.
It doesn't matter whether your hues are mauve or neutral, burgundy, blush, earthy tones and eucalyptus-it's important that all of the dresses be ordered together on the same day.
You know the reason?
Because ordering your dresses at the same time ensures that the dye lots and fabrics will match! Otherwise, you could end up with slightly different shades of the same color.
How Should You Shop the Right Dress for the Growing bump?
Shopping for a bridesmaid gown as a pregnant woman is a lot easier than one might expect. You need to focus on the material and dress silhouette when choosing a maternity bridesmaid dress.
Choose a Flattering Silhouette
Let the bride know how pregnant you'll be on the wedding day before you start shopping for bridesmaid dresses. Your changing body is an unsure element for her dress choice, so timely communication is really necessary.
A-lines, empire waisted, and wraps dresses are ideal dress styles for pregnant bridesmaids. They're comfortable to fit into and flattering to a fuller figure because they flow away from your body.
Sheath, column, and mermaid styles that fit tightly to the body can be tricky to wear when pregnant.
If the bride prefer a more fitted silhouette, don't worry-opt for stretchy fabric and tell the merchant about your pregnancy when ordering your dress, you can make the dress fit well and feel comfortable!
Pay Attention on the Materials
Lightweight fabrics and stretchy fabrics are perfect for your growing bump , such as chiffon, stretch jersey, and stretchy velvet. They're usually more comfortable to wear than rigid fabrics, such as sequins and satins that don't stretch.
Ask the Bride if You Can Mix and Match Dresses.
Mix and match brides¬maiden designs always look chic!
Most brides simply choose a material and color and leave it up to their bridesmaids whether they want to wear a v-neck, cowl neck, round neck, or square neckline.
Most brides also allow their bridesmaid to choose which dress style she wants to be wearing-whether it's cold shoulders, sleeveless dresses, or long sleeves.
If your bride-to-be doesn't have any particular dresses in mind, tell her which ones you're most comfortable wearing. Then you can pick out one that both of you love!
What Size Maternity Bridesmaid Dress Should You Order?
It really varies depending on your usual size and where you're at on the wedding date, but if you usually wear a size smaller than your regular size, then you might want to go for a slightly bigger size so that you can fit into your dress comfortably.
If you're looking for a specific type of dress, whether it be one that's ruched or pleat-ed, has a high slit, or is adorned with ruffles then here's how to figure out which size to buy:
- If you will give birth within the 2-3 months before the wedding: Opt for one size up to accommodate your growing body.
- If you're going to be 12-16 weeks pregnant at the wedding: Go for one size up from your normal size.
- If you'll be 21-26 months pregnant at the wedding: Order 2 sizes up from your normal size.
- If you're going to be 28 or more weeks pregnant at the wedding: Order at least 2 sizes up from your normal size (or consider ordering extra fabric).
Bridesmaids that will be more than seven months pregnant at the time of the wedding can also benefit from ordering a yard of extra fabric, just in case more extensive alterations are needed later on.
eDresstore offers fabrics that you can buy by yard, just order some together with your dress.
How to measure for Maternity Bridesmaid Dresses
You can measure yourself at home if you want to be more convenient. However, we suggest having someone else help you for the most accurate measurement. If you need help, consider going to a tailor or dress store.
Your Don't Need to Spend a Fortune on a Dress
Traditional suppliers of formal wear for weddings charge high prices because they operate in a traditional manufacturing to retailing mode. However, at eDressStore, we operate in a manufacture to customer (M2C) mode, which means we can offer our customers better pricing than traditional suppliers. We can offer our customers a variety of styles for $69-119.
When it come to buying a dress, size up may be advisable. If you're looking at dresses in-store, talk to the salespeople there. Otherwise, browse the maternity section and follow the size guidelines on the website before making a purchase.
1. Light Mauve Modest Bridesmaid Dresses Bishop Long Sleeves
Made from thick chiffon material, the dress drapes beautifully. It's comfortable because it has no waistband, so you can choose where your waist line is by choosing where you tie the sash. As it starts to become looser from under your arm pit, it becomes less tight and comfortable.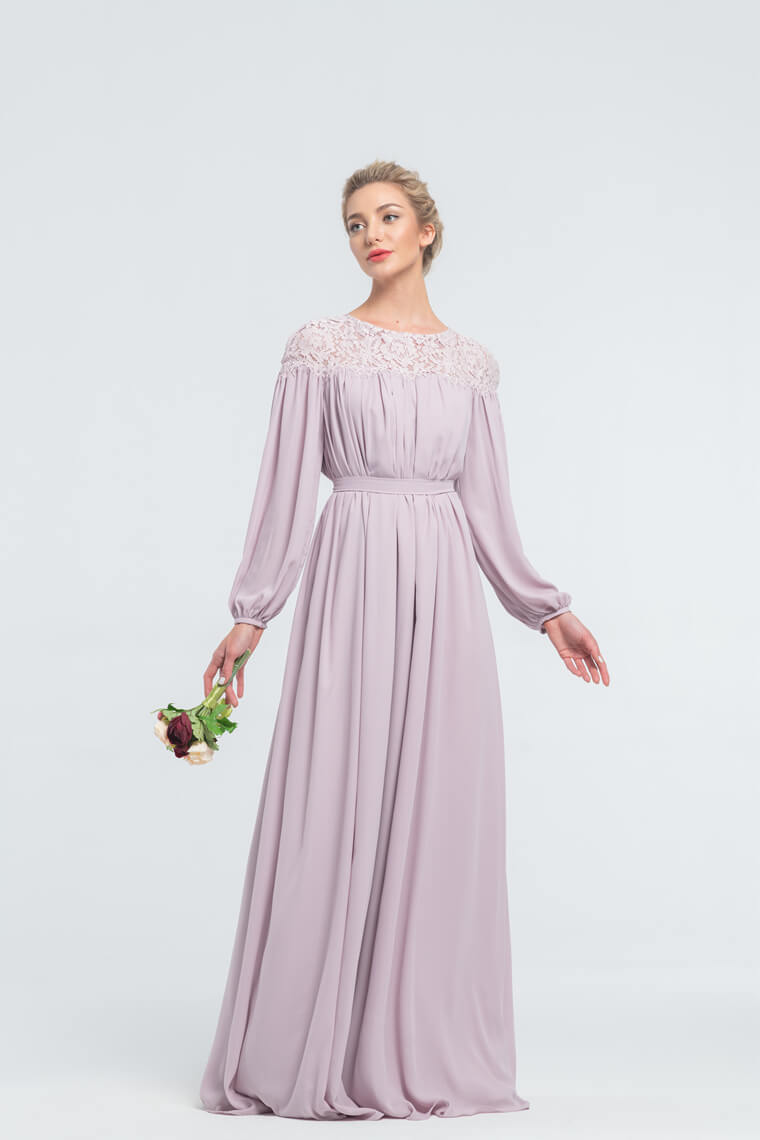 2. Sapphire Blue Modest Maternity Bridesmaid Dresses Short Sleeves
The sapphire blue modest maternity bridesmaid dress is a beautiful and elegant choice for your bridal party. This gown features short sleeves, a sweetheart neckline with an empire waist, and a full skirt that flows beautifully.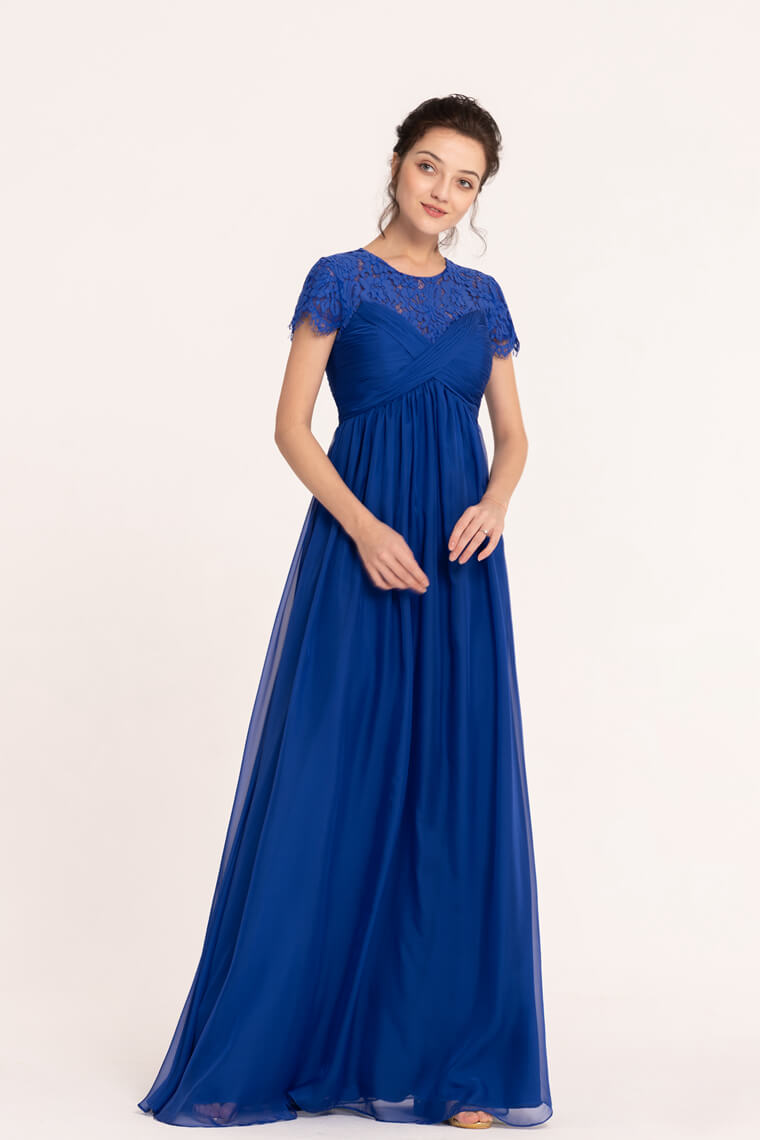 3. Dusty Lavender Maternity Bridesmaid Dresses
With its unique design, this dress features a knot shaped sweetheart neckline with 2 straps, and the empire waistline is high in the middle and down to a natural waist towards both sides. Its fabric is silk crepe chiffon, which makes it feel luxurious and soft.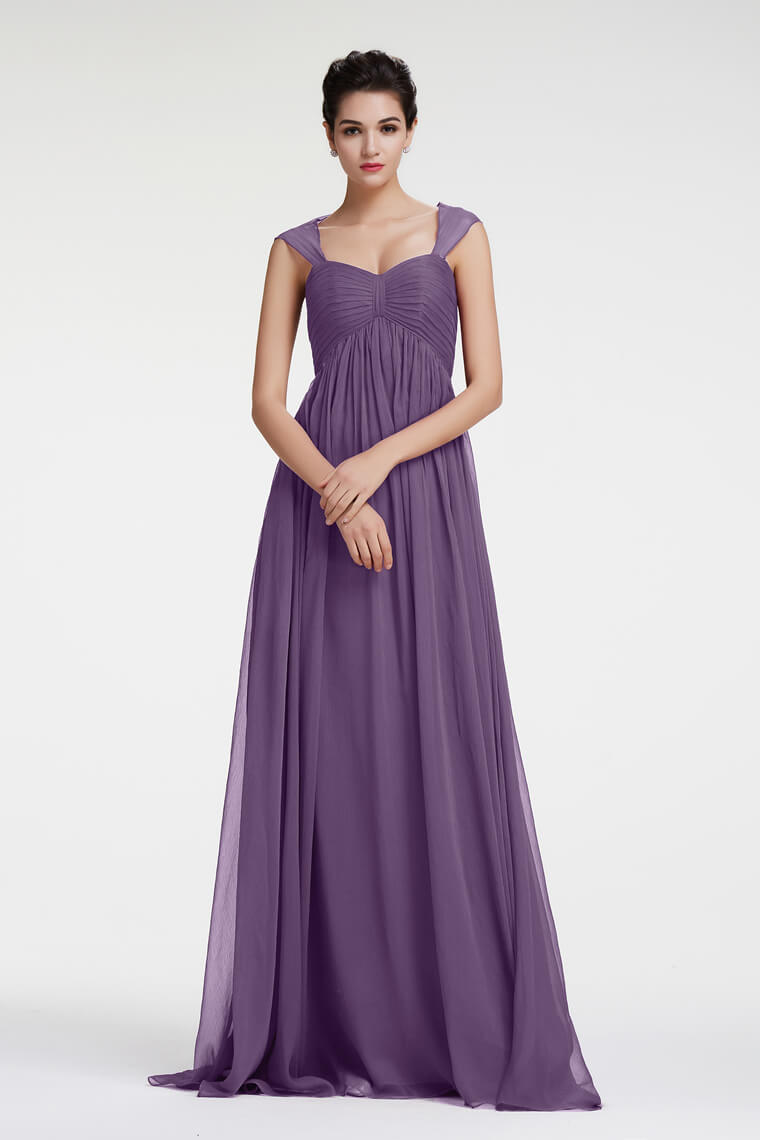 4. Pink Maternity Bridesmaid Dress Cap Sleeves
The Pink bump-friendly bridesmaid dress has a sweetheart neckline, gathered straps can be worn in any way you like it to be, gathered straps, off the shoulder or cap sleeves. An empire waist with pleats for added volume. Hand sewn crystal accent adds more noble taste.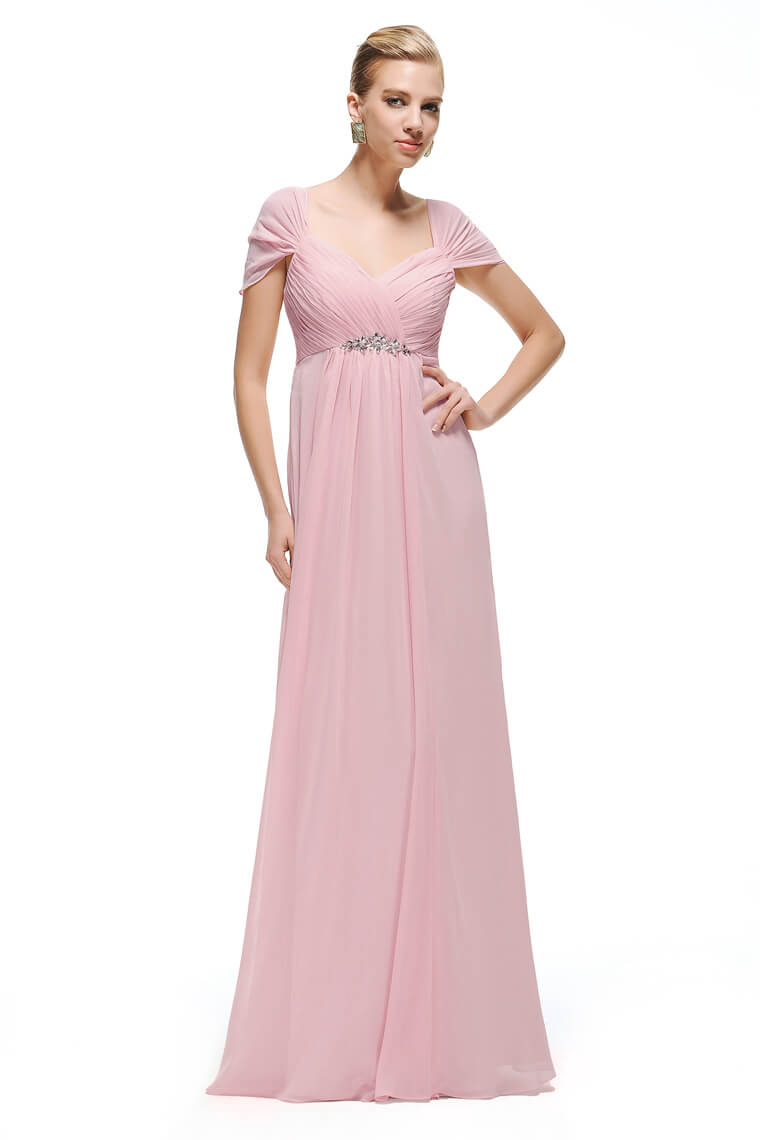 5. Marigold Wrap Bridesmaid Dresses Spaghetti Straps
Wrap dress style is always an ideal option for pregnant bridesmaids. WIth a tolerated waist, you'll feel free to tie the dress to your actual size when the wedding is approaching. Remember to order 1-2 sizes up for the growing baby bump.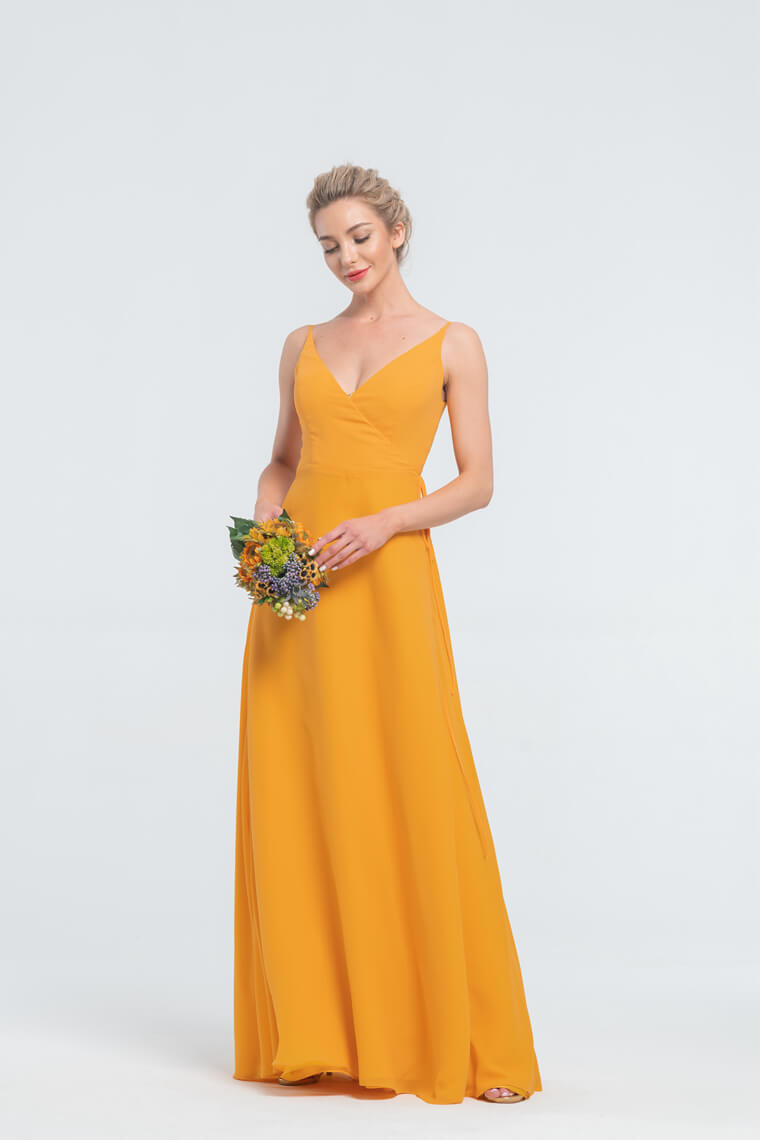 6. Modest Dusty Blue Wrap Velvet Bridesmaid Dresses with Flutter Sleeves
The dress hits almost all the hot points, elegant dusty blue color, stretchy velvet fabric, and wrap style. It's also nursing-friendly for new moms.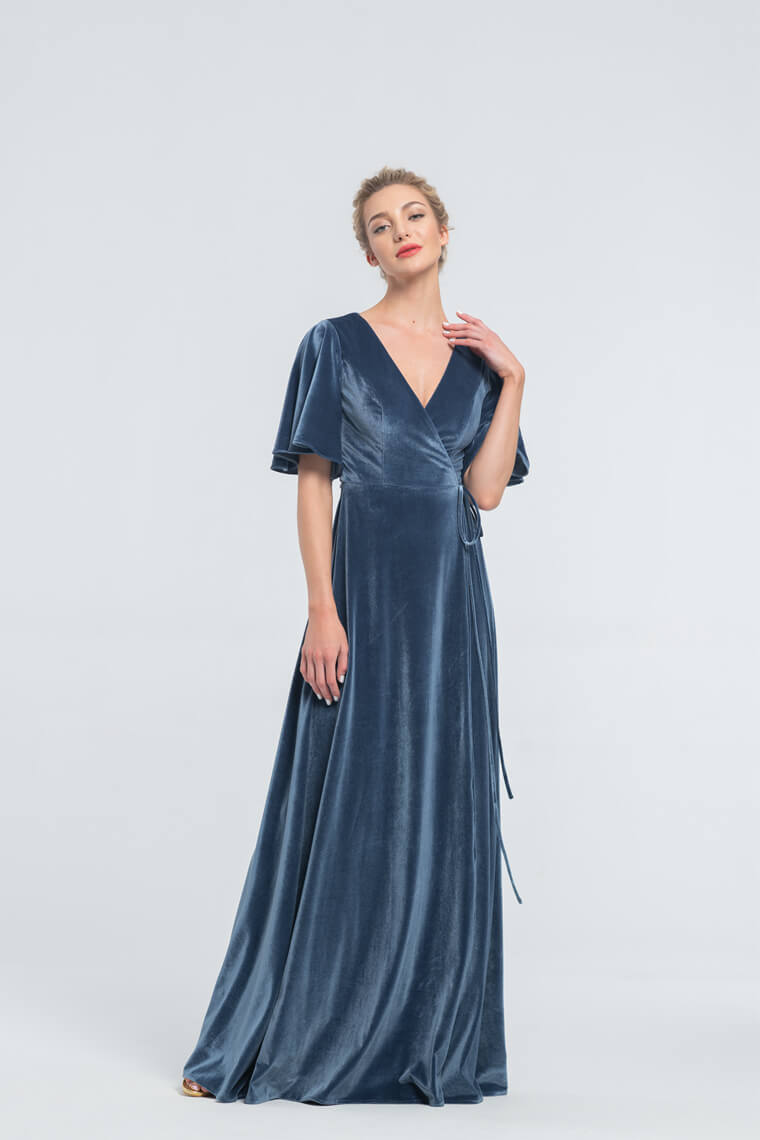 7. Modest Fuchsia Maternity Bridesmaid Dresses Cap Sleeves
The dress is really a must have for any pregnant bridesmaid! The dress is made of a soft and airy crepe chiffon fabric that will flow beautifully when you move. The neckline can be worn in any of the 3 ways you love, straps, off the shoulder, and cap sleeves.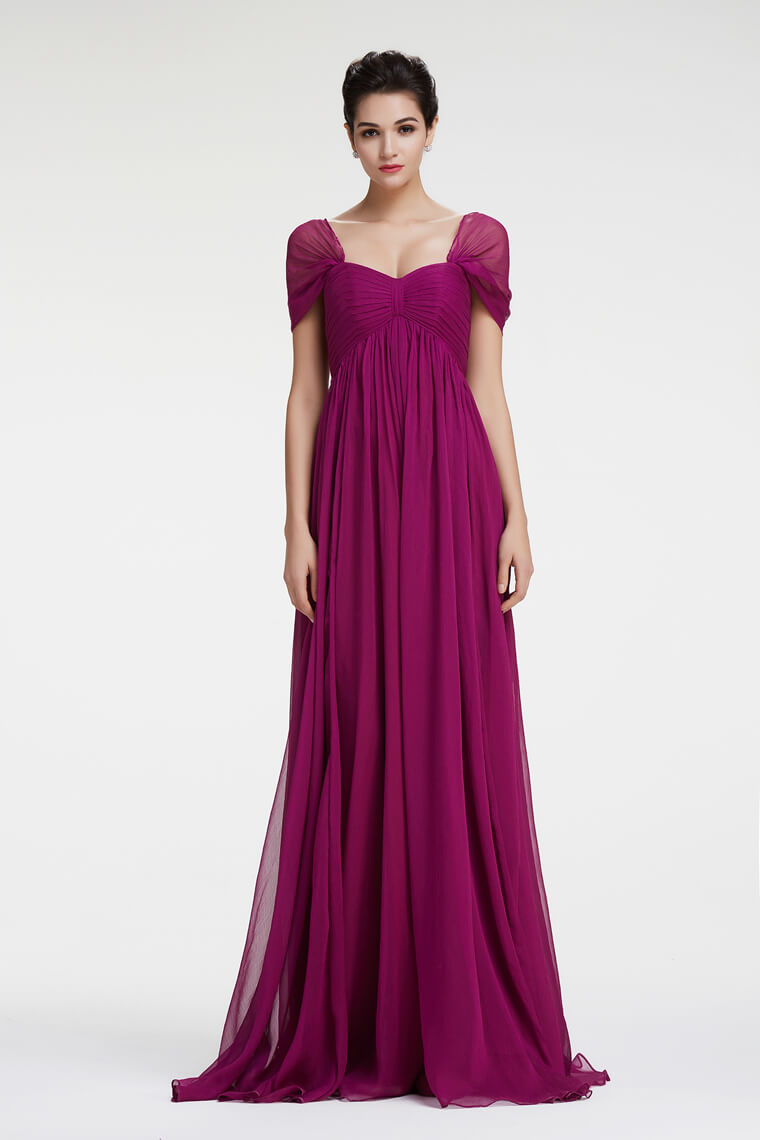 8. Navy Blue Maternity bridesmaid Dresses
The dress is made of a soft and airy thin chiffon. The dress has a beautiful design with an empire waistline in the middle and gradually into a natural waist on both side seams and on the back, which gives your crew an elegant and feminine look. It also features a sweetheart neckline and a back zipper closure.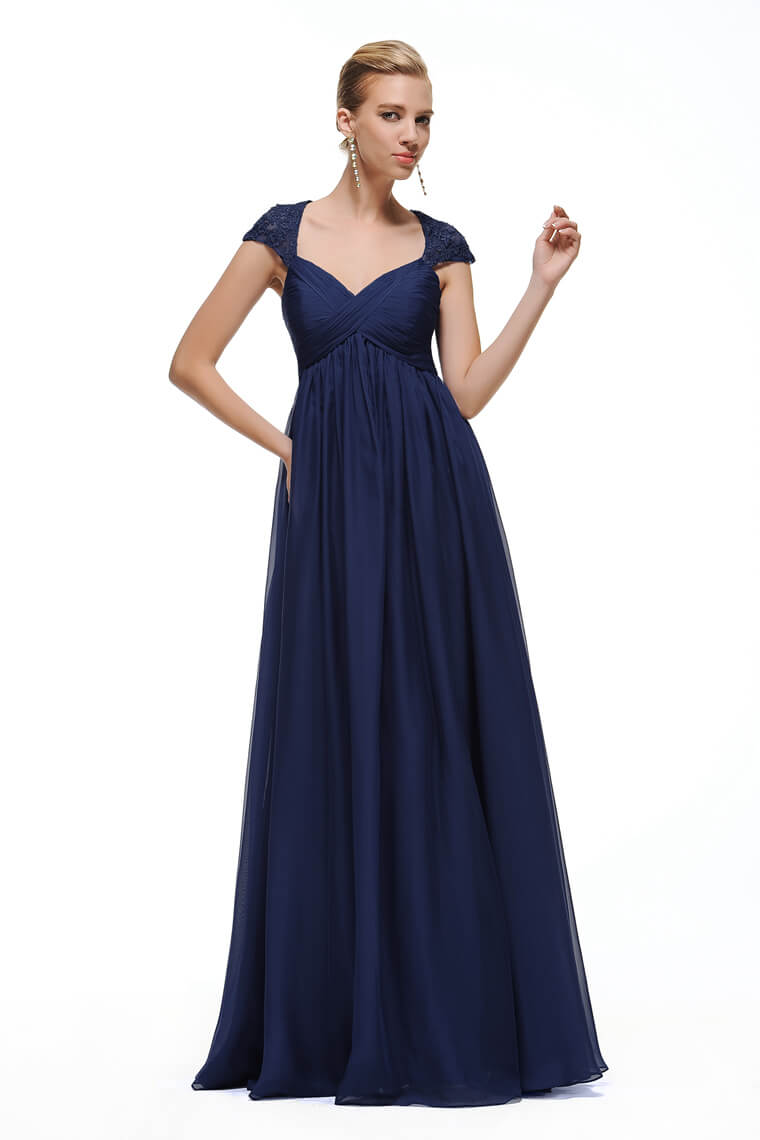 As a bridesmaid who is expecting, you're just like any other bridesmaids-support the bride, help her in any way that you possibly can, and show your unconditional love for her on the wedding day.
Regardless of how large your belly may be at the wedding, you're sure to look gorgeous in that dress!
Get the coupon code at wethrift and save 8% of any order!